Audi RS6 driven by former Stig Ben Collins egged on in 'The Duel'
Thu, 03 Oct 2013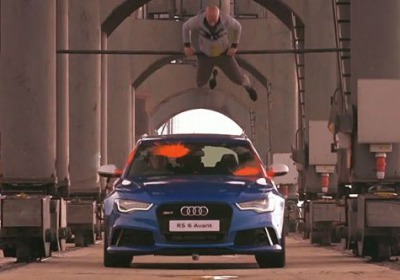 Apparently driving a 553-horsepower Audi RS6 Avant with carbon-fiber egg launchers that shoot paint-filled eggs is what Stigs do when they retire from Top Gear. And unfortunately for stuntman Damien Walters, he happens to be the target.

Walters – on foot with his paint-eggs and no carbon-fiber launcher – couldn't possibly escape from the Audi, let alone launch his own offensive, could he? You'll have to find out in the video below. And while we won't give away what happens, we'll say this video will definitely put a smile on your face, if you like all-wheel-drive drifting (which you should). We also included a couple more videos for your enjoyment, one of which takes you behind the scenes of The Duel.








---
By Damon Lowney
---
See also: 2014 Audi SQ5, Audi moving ahead with Q1 crossover, Audi pushing DOT to allow its sequential LED turn signals [w/videos].