Are you the Dodge Dart SRT4?
Tue, 08 Jan 2013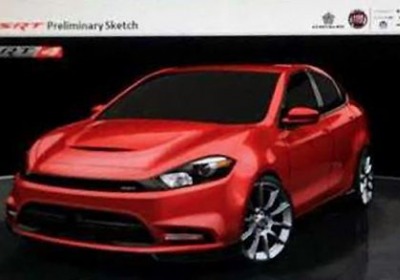 Dodge has just confirmed that it will be bringing its newest Dart variant, the Dart GT, to Detroit next week, but we're still in the dark about when we'll see a truly hotted-up SRT4 version. But now, by way of the rumormill anyway, we've got at least one proposed, potentially Dodge-based rendering to light our way.

Seen here is what would appear to be a design sketch of the SRT4 Dart. Obviously the image that has surfaced is of rather low-resolution, but there's at least some evidence to support that it may be legitimate. In the original picture, one can just make out the name Tim Doyle in the lower right corner. As it turns out, Tim Doyle's name is also watermarked on the final design image for the 2011 Dodge Durango Citadel Black & Tan, a model that was shown at SEMA in 2010.


Of course, even if this really is the work of Doyle, there's nothing to say that this image isn't one of a great many potential looks for the future SRT4. In fact, the departure of the cross-hair grille from the Dodge's nose seems like it could be a hard sell, though we do, naturally, dig the sleek hood scoop and the bulked up wheel/tire combination.

Whether or not a much-rumored Dart SRT4 materializes (let alone looks like this) is an open question, but we're still holding out hope that the car is fitted with the nearly 300-horsepower four-cylinder that has been rumored in the past.
---
By Seyth Miersma
---
See also: 2013 Dart GT will hold us over until SRT stokes Dodge's handsome compact, IIHS says these are the safest cars of 2013, Dodge vs. Chevy tug-of-war taken to the extreme.