2015 VW Golf R caught getting a flogging on 'Ring
Wed, 22 May 2013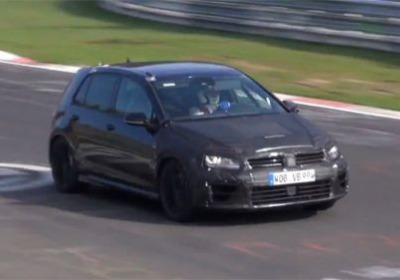 The upcoming version of the Volkswagen Golf R is nearly ready for prime time, if this video of the car flying around the Nürburgring is any indication. The all-wheel-drive R seems to make quick, neat work of the corners we see here, and sounds pretty devilish in the process.

Expectations are that the new Golf R will run a 2.0-liter turbocharged four-cylinder (what else?), tuned to produce even more than the current car's 256 horsepower. (Some sources have indicated outputs as high as 286 horsepower, with 280 pound-feet of torque. It's still not clear if Volkswagen will bring the six-speed dual-clutch transmission to the US-spec Golf R in this next go-round or if we'll stick to having only... eh... the stick.


In either case – watching the video below will only whet your appetite for the new, highest performing member of the Golf family.



---
By Seyth Miersma
---
See also: Porsche again staring down another $1.8B in hedge fund lawsuits, Production Volkswagen Taigun crossover caught in patent filing?, VW confirms development of 10-speed dual clutch, 134-hp/liter diesel.