2015 Jaguar F-Type R Coupe [w/video]
Thu, 16 Jan 2014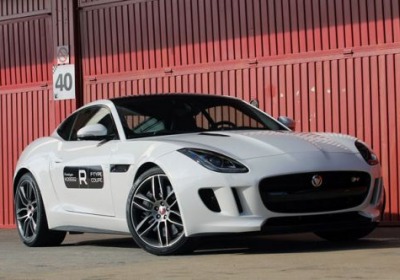 This is it. This is the nasty cat we've been hankering for most. Whereas the Jaguar F-Type convertible remains the company's purest expression of lifestyle fun and expendable income, it's this coupe version that originally stole our eyeballs and never gave them back when it debuted as the C-X16 Concept way back at the 2011 Frankfurt Motor Show. And now we've had an early turn at driving the most potent variant, the Jaguar F-Type R Coupe.

This F-Type Coupe design is so utterly visually stunning that, even if something dynamically or functionally was not really to our liking, we would still want to have the wherewithal to buy one and garage it, if only to stare at it – not unlike our reaction to the 2007-2009 Alfa Romeo 8C Competizione coupe, then. Whether such beauty needs to be in the form of this $99,000 mondo 542-horsepower R version or the more attainable six-cylinder trim is an open question.

In case you need reminding, that's 542 horses maxing out at 6,500 rpm, along with 502 pound-feet of torque on tap between 2,500 and 5,500 revs. There is no indicator yet as to whether Jaguar will eventually come out with an R version beyond the 488-hp V8 S for the convertible, either, so this may well be our only shot at such hair-brained antics in this small Jag. Small and not quite light, we should add – despite its all-aluminum goodness – the F Coupe rings in at 3,638 pounds. That sort of heft is one thing on the street, but it's quite another on a twisty roadcourse, and we aimed to figure out if the coupe's 80-percent greater stiffness versus the open F-Type (along with its higher attendant spring rates) were enough to make a big difference.




It quickly became clear that the Brits had a major hit on their hands in the key of F.
For our initial exposure to the F-Type in the first half of last year, Jaguar hosted us in damp and green Wales, then in northern Spain on a circuit in the dry and brown Navarra region. No matter the conditions and no matter which of the F-Type's three engines were installed in the nose, it quickly became clear that the Brits had a major hit on their hands in the key of F.

This special early top-trim coupe was a track-only affair, held at the 2.9-mile, 16-turn Circuit de Barcelona Catalunya, where several Formula One teams do their most significant off-season testing. It's a very fast circuit with a few points deliberately designed to upset a car dynamically.

One curious thing about the R coupe, on its standard 20-inch Gyrodyne wheels and Pirelli P Zeros (255/35 ZR20 97Y front, 295/30 101Y rear), is that the R therefore sits slightly higher than the $77,000, 375-hp F-Type S Coupe that uses 19-inchers, and also ends up with slightly narrower track widths. Get the optional big carbon-ceramic brake discs and you then must select 20-inch Storm alloys (available cast or forged, shoppers!) that also provide welcome wider offsets at all four corners for a wider stance.




Every car we drove was fitted with Jag's remarkable optional sport exhaust system.
Those differences informed our two-session plan: four hot laps with the R's standard Super Performance brakes and Gyrodyne wheels, then four hot ones with the optional setup.

Regardless of their wheel and brake choices, every car we drove was fitted with Jag's remarkable optional sport exhaust system (hear it in the video below). The driver-selectable system roars with a perfect voice, particularly during aggressive on- and off-throttle moments. This set of tubes is particularly intense on the convertible's top V8 S setup when you press either the specific sport exhaust button or switch the onboard calibration to Dynamic. On the R Coupe, with the windows down and the sound caroming about the cabin, it's intense to the power of two, and from the outside in the pits, it might as well have been the Fourth of July.

Tracks – and definitely this track – bring out the will in us to push a car to reveal what its engineers had in mind. Officials reminded us over and over again that this F-Type R Coupe is the sportiest modern Jag, and yet they did so while also repeatedly reminding us that these verification units were early prototypes built in October (even though they had all of the company's latest software programming tweaks in place).






If you keep the traction/stability control in Normal, the nannies can virtually bring the whole party to a halt.
The four laps we managed in the car fitted with standard wheels and steel brakes showed us that the R is one heady rascal. Even in the tightest curves after hard braking, we never once needed to take the eight-speed Quickshift automatic transmission into second gear. In this manner, the F-Type reminded us of the new Corvette Stingray and its legendary low-end torque. Thankfully, that wad of 502 lb-ft builds effortlessly in third gear, and you're going much faster than you think in short order. Yet even though we had a limited on-track session, it wasn't long before we found ourselves desiring an R Coupe fitted with ceramic brakes and wider stance.

With the standard wheelset, narrower footprint and that big V8 anchor in the nose, it's easy to generate understeer into and through the corner if you don't get the line spot-on. If you keep the traction/stability control in Normal, the nannies can also then virtually bring the whole party to a halt before letting you bring things around and pass Go again. Simply put, the stability programming feels like it's interfering with the clutch pack of the Electronic Active Differential (EAD), and the brake-torque vectoring's engagement needs polishing. Even a sortie with the stability control set to Track mode (as you'd be wont to do on a closed circuit under ideal weather) resulted in what felt like a near-panic power grab when it wasn't necessary. Twice. It was enough to have us wistfully missing the benefits of a mechanical LSD. Jaguar officials tell us that they should have this all sorted by April 28, which is when deliveries start in the US.




Launching this wee beastie was fire, thunder, smoke... it was all so easy.
But then we sampled cars with the carbon brakes – gargantuan platters at 15.7 inches in front with six-piston calipers and 15.0 inches rear with four pots – and wider offset Storm wheels (very sharp, by the way). Nearly all was forgiven. These cars were at once more settled and more serious, allowing us to push harder and more confidently through several sections of the circuit. For smoothness' sake, we switched off the DSC completely, a decision that forced us to better manage throttle feed-in out of every curve, as well as hit every line as pinpoint sharp as possible. The differences in driver satisfaction were very telling, and launching this wee beastie – capable of a sub-4.0-second dash to 60 miles per hour and a top speed of 186 mph – on a straight line even without launch function engaged was fire, thunder, smoke... it was all so easy.

The Polaris White cars we preferred all came with the optional panoramic roof. This setup may weigh a bit more, but having the added glass also brightens up the interior tremendously, all while making it easier to see the tufts of smoke you're about to kick up, too.




The other chief benefit of the R's coupe body is finally having some semi-decent cargo space.
The other chief benefit of the R's coupe body, besides its mouth-watering beauty and proportion, is finally having some semi-decent cargo space behind the two seats: 11.0 cubic feet versus the convertible's barely useful 7.0 cubic feet.

Now we're even more eager to try the supercharged V6 in the F-Type S Coupe or the base 335-hp $65,000 F-Type Coupe – they may offer less power, but they also promise better balance and less weight on the front wheels for better handling.

We're hopeful that Jaguar will address our handling concerns ahead of the F-Coupe's on-sale date, but the truth is, little of this will probably matter to most buyers – no matter the trim, whoever gets to own one of these will be content to be stylin' at any speed.


Vital Stats
Engine:

5.0L SC V8

Power:

542 HP / 502 LB-FT

Transmission:

8-Speed Auto

0-60 Time:

4.0 Seconds (est.)

Top Speed:

186 MPH

Drivetrain:

Rear-Wheel Drive

Curb Weight:

3,638 LBS (est.)

Seating:

2

Cargo:

11 CU-FT

MPG:

16 City / 23 HWY (est.)

Base Price:

$99,000

As-Tested Price:

$120,000 (est.)
---
By Matt Davis
---
See also: Motor Trend pits Aston V12 Vantage S against Jaguar XKR-S GT in battle of the Brits, Jaguar appoints Joe Eberhardt as North American President, Stunning Jaguar E-Type Lightweight tribute featured by Petrolicious.