2015 Audi S3 Sedan
Tue, 12 Nov 2013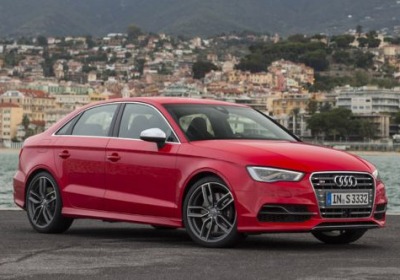 For the last few years, Audi has been publicly toying with building a successor to its Ur-Quattro, a model still glowing in a gritty patina of motorsports glory decades after it left the scene. If anything, the rally car's halo has burned brighter as Audi has matured into a world luxury superpower. Since 2010, the German automaker has shown two different concept cars that attempted to re-bottle the legend's lightning, and it's still trying to figure out whether to market a production model. Despite that conundrum (and not to take anything away from the seminal Ur-Quattro), it's easy to argue that there are two other cars much more important to Audi's rise from its '80s ashes: the original TT and the B5-generation A4 and its high-performance variants.

The TT thrust Audi into the vanguard of automotive styling while firmly establishing the Volkswagen Group as masters of platform development (the same basic architecture and powertrain guts were employed in a dizzying array of models, from the Golf, Jetta and New Beetle to a number of Škoda products). This unprecedented, flexible building-block approach to new model development has since become the standard of the industry.

In the case of its B5 cars, the A4, S4 and RS4 put Audi back on the radar of rival German automakers, and more importantly, they grew the Four Rings' sales by leaps and bounds while reminding the world that all-wheel drive needn't only benefit hardcore performance cars and utility vehicles. Fast-forward to today, and the A4 has established itself as the bedrock of Audi's lineup, but it's also grown over its four generations to become substantially larger, heavier and costlier than the model that debuted back in 1996 America. That's created a vacuum at the bottom of the range that the company has inadequately addressed – until now.

Audi's latest A3 generation first debuted in hatchback form at the 2012 Geneva Motor Show, but in a sign of our North American market's growing importance to the brand, Audi commissioned its first A3 sedan and released it at the New York Auto Show in March along with the 2015 S3 Sedan seen here. We still have yet to drive the bog-standard A3 saloon, but that's fine by us, as Audi just flipped us the keys to its higher-performance variant, the S3, on the seaside mountain roads of Monaco.




It's officially okay to get excited now.
For those still enamored with the B5 S4 like we are, this S3 amounts to nothing less than its spiritual successor – even if the alphanumerics on the decklid don't line up. Their numbers are startlingly similar: the original rode atop a 103-inch wheelbase, spanned 176.5 inches long, 68.2 inches wide and stood 55 inches tall. It weighed in at around 3,400 pounds. The 2015 S3 is an inch shorter at 175.5 inches, yet at 70.7 inches, it's more than two inches wider. Its wheelbase is an iota more at 103.4 inches and its overall height is marginally taller at 55.7, yet its curb weight is slightly lighter at a quoted 3,318 pounds. In other words, it's pretty darn close.

The biggest numerical departures between the S4 and this new S3 occurs under their hoods – the B5 employed a 2.7-liter, biturbo V6 that yielded 250 horsepower and 258 pound-feet of torque in US trim. The new S3? It receives a 2.0-liter turbocharged and direct-injected four-cylinder. That's the same size and configuration as larger-engined A3 sedans, but unlike those lesser models, the S3 employs a higher-pressure turbo and larger intercooler, along with a unique aluminum-silicon alloy cylinder head capping strengthened internals that include special pistons, camshafts, con-rods, crankshaft bearings, exhaust valves and valve seats. Those changes are expected to net about 290 horsepower and 280 pound-feet of torque by the time the S3 makes it Stateside (our European test car is rated at 300 hp with an identical torque figure). It's officially okay to get excited now.




The S3 is not an attempt at a four-door coupe shape like that of the S3's main rival, the Mercedes-Benz CLA.
Like the new seventh-generation Golf and GTI, the S3 rides atop Volkswagen's pivotal new MQB modular compact architecture, as does the S3 Sportback that European correspondent Matt Davis told you about in May. Yet the sedan and the hatchback are actually quite different – the trunked model has a 1.4-inch broader wheelbase and is eight inches longer overall. Those changes help give the S3 sedan much more natural three-box proportions, but they also mean that the sum total of exterior parts shared with the liftback could fit in a shopping cart – headlamps, side mirrors, door handles and part of the single-frame grille are the only common bits.

Speaking of proportions, the S3 has some nice ones – it looks like a 7/8ths version of the current S4, but with a few differences that actually add some visual aggression, particularly around the front fascia. There's little new ground broken here, but the S3 is handsome, athletic and premium looking, particularly with our test car's 19-inch wheels. Company officials are quick to point out that the S3 is not an attempt at a four-door coupe shape like that of the S3's main rival, the Mercedes-Benz CLA – Audi's aim was to preserve utility and rear seat space.



We drove the S3 with manual and S-tronic dual-clutch gearboxes along the region's rocky Mediterranean coastline and found both six-speed transmissions to be very entertaining and capable. For the moment, North America is only slated to get the two-pedal, two-paddle setup. We can hear your grousing from here, but know that the dual-clutch may actually be better-matched overall – its ratios are well spaced and its shifts are quick and decisive both in auto and manual mode. There's a tiny bit of turbo lag down low, but peak torque hits at just 1,800 rpm and holds on through 5,500 revs, meaning you've got a wall of thrust at your disposal almost everywhere on the tachometer. The twin-clutch cogswapper also brings with it a bit of welcome exhaust feedback, 'burping' during upshifts under hard acceleration, but otherwise, the engine is almost not vocal enough for our tastes. One misgiving: even in full manual mode with the Drive Select set to Dynamic, we couldn't get the DCT to hold gears at redline.



Audi hasn't firmly shut the door on bringing over a manual model, but we wouldn't expect it in the car's first model year.
In truth, the manual is a bit of a sweetheart, too, with a clutch featuring friendly weighting and predictable engagement, and the short-throw shifter feels sporty, with direct engagement, a nice knurled metal shift knob and firm, return-to-neutral springing. For whatever it's worth, the manual continues to be slightly more involving and similarly slower than the dual-clutch, but that's not to say that the paddleshift setup is boring. In fact, the DCT was an added asset on the steep zig-zag climbs surrounding the ultra-posh enclave, as it allowed us to keep both hands on firmly on the fat, flat-bottomed wheel during technical sections while still keeping the engine on boil. For those holding out for DIY glory, Audi hasn't firmly shut the door on bringing over a manual model, but we wouldn't expect it in the car's first model year.

Regardless of transmission, the all-wheel-drive S3 is definitely quick. With the the help of the S-tronic's launch control, Audi estimates the S3's 0-62 mph time at 4.9 seconds (the manual takes 5.3). Those figures skew closer to the costly CLA45 AMG than Benz's entry-level front-drive CLA250, and that's before the unconfirmed but seemingly inevitable RS3. Top speed is governed at 155 miles per hour.



Given Monaco's temperate climate and staggering financials (the tiny city-state is first in the world's per capita GDP sweepstakes), it should come as no surprise that the roads both in and around it are in fine repair. Thus, the upsized 19-inch 235/35 Continental ContiSportContact summer tires never presented a ride comfort issue (18s are standard), but part of the credit must go to the car's optional magnetic ride suspension, which joins the throttle, gearbox, steering effort and stop/start as parameters influenced by the Drive Select system's settings (Comfort, Auto, Dynamic, Efficiency, or Individual).

We preferred setting the variable-ratio electric power steering rack in its sportiest mode, which gave it real heft to go along with its welcome accuracy. While not the last word in feedback, it was generally easy to tell what the tires were doing and the passive variable-ratio setup never felt artificially nonlinear (an annoying side-effect we've experienced on cars from rival automakers with active setups). The variable rack was particularly welcome on our drive route's countless switchbacks, as were the uprated 13.4-inch front brakes. Even so, the S3 is really about the maximum size of car we'd want to fling up and down such tightly tailored roads, particularly since there is understeer upon corner entry and this isn't the most throttle-steerable of cars (there's generally too much grip to bring the rear end around).




The rear seat is an ill-advised long-distance perch for most adults.
Audi enjoys a reputation for crafting excellent interiors, and the S3 should do little to upset that hard-won stature. It has a 'thin dash' design to impart lightness and sportiness, along with round vents and a clean, simple-as-pie set of heating and ventilation controls. Key driver touchpoints including the aforementioned thick-rimmed wheel, stainless-steel pedals and leather-wrapped shift knob all feel substantial and are well-located. The S3 comes standard with a perfectly nice set of seats, but we would have preferred more lateral support. Audi will offer racier diamond-quilted S sport seats for people like us, but there were no such chairs available to try out. Not incidentally, we found the rear seats to be much easier to access and use than those in the CLA, but even with around two inches of additional headroom, the rear seat is still an ill-advised long-distance perch for most adults.

A new retractable seven-inch Multi Media Interface screen is the cabin's technological centerpiece, governing everything from audio and navigation to telephony and vehicle settings. The screen is tied to Audi's latest-generation infotainment architecture with a newly upgradable Nvidia Tegra 2 processor, and the system has been relocated to the glovebox to free up more space in the center stack. The MMI controller now features a larger-diameter jog dial that integrates the company's excellent gesture control pad, and with Google Maps integration (not to mention available 4G LTE broadband wifi), this is about as slick a setup as you'll find at any price.




It's unsurprising that Audi is saying very little about its price.
Audi's beancounters peg the entry-level compact luxury segment as the industry's second quickest-growing segment, and it plans a full range of North American models to slake consumers' growing demand. That includes the April 2014 arrivals of 1.8- and 2.0-liter A3 sedans, followed by a second wave of products in August spearheaded by this S3, as well as the A3 Cabriolet, an A3 TDI diesel sedan and the Q3 crossover, a model not built on MQB underpinnings. In early 2015, the A3 Sportback will return, but only in E-Tron plug-in hybrid guise. That's an impressively wide array of products to replace a single low-volume hatchback, today's dated A3 Sportback.

Given that this tasty S3 is around a year away, it's unsurprising that Audi is saying very little about its price. That said, we'd unofficially ballpark it at about 25 to 30 percent more than the starting price of the A3, which has been released at $29,900 plus destination – call it just under $40k for starters. That's good amount of coin for something of this size, but let's remember something else: a 2000 model-year S4 carried a base price of $37,900, and it was less powerful, less efficient, less roomy, and far less accoutered. Given the S3's substantial performance envelope, excellent interior, foul-weather traction and brand cachet, this seems like a very fair shake. Just as importantly, the S3 strikes us as a worthy successor to the B5 S4, one of our favorite sport sedans of all time.

Now, about that new TT...


Vital Stats
Engine:

Turbo 2.0L I4

Power:

290 HP / 280 LB-FT (est.)

Transmission:

6-Speed DCT

0-60 Time:

4.9 Seconds (0-62 mph)

Top Speed:

155 MPH (limited)

Drivetrain:

All-Wheel Drive

Curb Weight:

3,318 (est.)

Seating:

2+3

MPG:

N/A

Base Price:

$40,000 (est.)

As-Tested Price:

$47,500 (est.)
---
By Chris Paukert
---
See also: Get lost in Evo's sublime 2013 Car of the Year testing, Forza 5 documents bringing Audi R18 E-Tron and Le Mans to game, Audi Sport Quattro Concept makes video debut.