2014 Toyota Corolla to bow before LA
Sat, 30 Mar 2013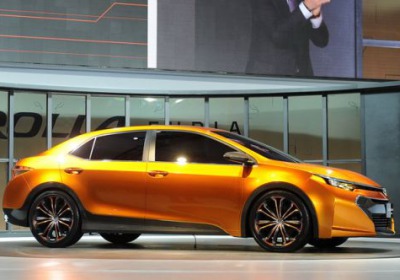 We've sort of been wondering when Toyota would finally debut the next-generation Corolla sedan, especially since the current car is getting very, very long in the tooth. We got a glimpse of the new compact's design at this year's Detroit Auto Show in the form of the Furia concept seen above, but we figured we'd see the production car by now.

According to Edmunds, Toyota will be unveiling the new Corolla sometime soon, and it won't wait until the Los Angeles Auto Show in November. Officials from the Japanese automaker did not state a specific location or date for the new car's unveiling, but said that the 2014 Corolla is expected to be on sale before the LA expo later this year and that it will be revealed "somewhere in the US."

Toyota did not divulge any details about the new Corolla, and we're willing to bet that the aggressive lines of the Furia concept will be dulled down quite a bit for the production model. Still, news that the new car is coming sooner rather than later is indeed a good thing.
---
By Steven J. Ewing
---
See also: KBB 2013 Brand Image Awards has some obvious and oddball winners, 2014 Toyota Highlander greets the world with NYC debut, Toyota mini doc chronicles Tundra towing Space Shuttle Endeavor.