2014 Toyota 4Runner
Fri, 02 Aug 2013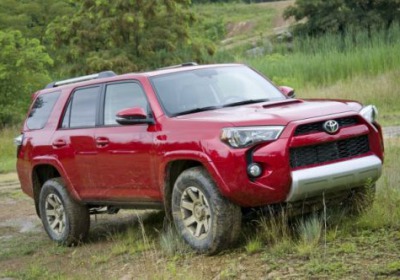 I recently took the redesigned 2014 Toyota 4Runner for a muddy romp in Pennsylvania. While the mechanical bits and pieces beneath the body-on-frame SUV trudge forward into the new model year with very few tweaks, the truck "receives a rugged new exterior design and interior refinements that add comfort and convenience without sacrificing its hallmark performance capability and excellent value," says the automaker.

A quick visual scan of the 4Runner reveals a new front end with a more "aggressive" and "muscular" appearance (yes, I'm quoting Toyota) that includes new headlights, grille and hood scoop. A roof rack is now standard across all trims, too. While SR5 and Trail grades have a bland color-keyed grille insert that gives the face a monochromatic appearance, the range-topping Limited (shown above and in our gallery) snarls with a silver-plated chin that gives it a bit more character.


New soft-touch surfaces within the cabin provide a more upscale environment and a bright new Optitron instrument panel improves readability and functionality. As before, the SR5 and Trail models arrive with fabric upholstery or optional Softex seats (synthetic leather). Genuine hides are reserved for the Limited trim, which is also fitted with Toyota's unique X-REAS (X-Relative Absorber System) automatic suspension system as standard equipment.

Driving Notes
Despite (or arguably, because of) its 2014 facelift, the 4Runner is challenged in the appearance department. The styling, inside and out, is confusing to us, with odd angles and shapes that don't appear cohesive with any overall sense of design. While very little of it is pleasing to the eye, it still works ergonomically – nobody said functionality has to be pretty.
Under the hood is Toyota's proven 4.0-liter V6, mated to an old-school five-speed automatic. Tasked to move the 4,400-pound SUV, the naturally aspirated engine has its work cut out for it. Even so, it doesn't balk at moving the truck on- or off-road – few will wish for additional power under normal driving situations – I never did. If you've still got a performance itch, TRD still offers a supercharger kit that adds nearly 70 horsepower.
As Toyota will tell you, 4Runner loyalists are justifiably proud of their truck's go-anywhere capability and reliability (full disclosure: I owned a bulletproof third-generation SR5 with the 3.4-liter V6). During my drive, I had the opportunity to dunk, slam and bash the sturdy SUV while meandering through a challenging off-road course, and the four-door plugged along as if I was toying with it. The multi-mode 4x4 system, with a locking center differential, seemed unfazed by mud, rocks and logs (even though I slipped and fell on the surfaces twice while taking photos). If really pushed, the stock Dunlop Grandtrek tires could use upgrading – I'd consider the new Michelin LTX AT2 tires, as fitted to the 2014 Tundra half-ton with the TRD off-road package.
Seven passengers will fit inside the 4Runner's cabin with the optional third-row seating. Keep in mind that those in the back will need to be small, and their occupancy swallows up nearly all of the cargo space aft of the raised seat - consider it useful only in a pinch. If you don't need the seats, forgo the third row for a slide-out load floor that is not only useful, but makes the floor flat when the second row is folded.
One has to appreciate the evolution that this SUV has gone through over the years, as the Japanese automaker has tweaked, polished and refined nearly every square inch since its introduction in 1984. While I'd still choose the Jeep Wrangler Unlimited Rubicon for hard-core off-pavement use and the Nissan Xterra is priced much more aggressively, the 2014 Toyota 4Runner is years more civilized and much more practical as both a people hauler and daily driver. It's not as refined or fuel-efficient as the average unibody crossover, especially when one throws the impressive Jeep Grand Cherokee into the mix, but it's the most capable for those who require a traditional body-on-frame truck to take daily abuse. Despite its polarizing appearance, the 4Runner remains a leader in this shrinking segment.
Vital Stats
Engine:

4.0L V6

Power:

270 HP / 278 LB-FT

Transmission:

5-Speed Auto

0-60 Time:

7.5 Seconds (est.)

Drivetrain:

Four-Wheel Drive

Curb Weight:

4,525 LBS

Towing:

4,700 LBS

Seating:

2+3+2
---
By Michael Harley
---
See also: Toyota donates engineers, not money, to country's largest anti-hunger charity, Toyota sells six of 10 of hybrids in California, 2014 Toyota Tundra.