2014 Porsche Panamera 4S Executive
Fri, 09 Aug 2013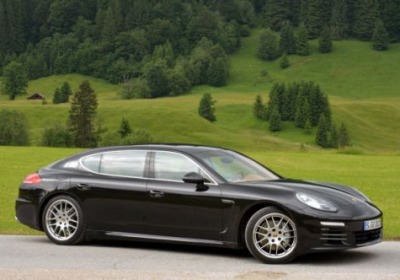 If the idea of a Porsche sedan (or, long hatchback) is still off-putting to you, then you might want to look away now. For 2014, the polarizing Panamera has received a midcycle refresh bringing slightly different styling, as well as adding two new models to the lineup, the S E-Hybrid and the stretched-wheelbase Executive. Having focused most of my recent trip to Germany on a First Drive of the intriguing plug-in Panamera, I also got to spend some time with the roomier Executive model.

Offered in both 4S and Turbo guise, the Panamera Executive has been stretched by almost six inches for the sole purpose of improving rear passenger space. Although it's hard to imagine anyone would willingly buy a Porsche and opt to sit in the back seat, I'd have to say that if I'm going to be chauffeured around in a car, why not make it a Porsche? For the most part, though, I'm guessing that many Panamera Executive sedans will be owned by people who want to one-up their buddy driving a stretched BMW 7 Series or Mercedes-Benz S-Class.


Driving Notes:
Regardless of who is going to buy this car, it's hard to argue with the amount of space and luxury afforded to rear-seat occupants on the Executive models. Whatever time I wasn't behind the wheel, I spent sitting in the rear seat. Not that the standard Panamera rear seat is cramped, but there is plenty of room to stretch out in the Executive. Porsche has yet to release official figures for rear legroom or total passenger volume to give exact comparisons, but suffice it to say that the extra room in the Executive is noticeable. Both rear buckets recline and offer adjustable lumbar support, but the right side is the place to be since the front passenger seat can be controlled from the rear, and moved out of the way.
For optimal comfort, each rear seat has its own climate control zone (with individual controls for left and right passengers) and all four seats are heated and ventilated. A pair of small vanity mirrors were also added into the rear headliner as a finishing touch.
Porsche made plenty of styling changes to the Panamera for 2014, and while most are relatively minor, there's no missing the six-inch wheelbase stretch. A lot of the car's finer details look to have been inspired by the 2012 Sport Turismo Concept, but it all looks good, and the wheelbase stretch doesn't look awkward. At the right angles, it's even a little challenging to tell the Executive models apart from a standard-length Panamera.
The front quarters of the 2014 Panamera's cabin have changed little. This means that the absurd amount of buttons and switches carry over from last year. However, the addition of some new technologies do make living with this stretched car a bit easier. The new Surround View option, for instance, gives a bird's-eye view of the car when backing up but can also be changed using the touch screen to give six different views of the car using seven exterior cameras.
While the styling changes and the new models have grabbed most of the headlines, I was looking forward to driving the new 4S Executive more for its new engine. Replacing the previous 4.8-liter V8, S and 4S models are now powered by a twin-turbo 3.0-liter V6 putting out 420 horsepower and 384 pound-feet of torque – that's 20 more hp and 25 more lb-ft than the outgoing engine.
If I had to describe this new engine in a single word, it would be "strong." I've never had a problem with the Panamera's acceleration, but this new 4S Executive model, which packs on an extra 300 pounds over the non-stretched 4S, is still impressively quick. Porsche specs a 0-60 time of just 4.5 seconds for the Executive equipped with the Sport Chrono option. For comparison's sake, the Panamera 4S Executive is less powerful and 400 pounds lighter than a comparable BMW 750Li xDrive, but it can hit 60 mph a tick faster and should get better fuel economy, too – although final 2014 estimates have not been released yet.
Thanks to the standard adaptive air suspension, the Panamera managed to offer a sporty ride that handled the twist roads of the Bavarian Alps quite well, while still offering a smooth, comfortable experience when desired. Top speed is listed at 177 miles per hour, and I almost made it there as I blasted down the Autobahn at 175 mph (my new personal land-speed record, by the way).
Opting for the extra rear space will cost you, literally, as the 4S Executive's starting price of $125,600 is a $27,000 premium over the standard-length 4S, which means that you're paying $4,500 per added inch! While an exact as-tested price wasn't available, I calculated using the consumer website that this car would retail for $133,780 as equipped. The Turbo Executive is almost $20,000 more than the Panamera Turbo with a base price of $161,100. That makes it the most expensive Panamera in the model lineup, and the second-most expensive model in Porsche's whole 2014 lineup. Still, it could be worth the money for that extra 100 hp and 132 lb-ft of torque.
We can all thank car buyers in China (with a penchant for long wheelbases) for the existence of the Panamera Executive, but credit definitely goes to Porsche for making this car as fun as it is. There are no lack of long-wheelbase alternatives on the market, but there's just something a little more exciting about driving a car that already looks like a stretched 911. I mean if you're going to schlep friends and family around town or punch the clock chauffeuring wealthy business people, why not do it in a Porsche, right?
Vital Stats
Engine:

Twin-Turbo 3.0L V6

Power:

420 HP / 384 LB-FT

Transmission:

7-Speed DCT

0-60 Time:

4.5 Seconds

Top Speed:

177 MPH

Drivetrain:

All-Wheel Drive

Curb Weight:

4,409 LBS

Seating:

2+2

Cargo:

44.6 CU-FT (max)

Base Price:

$125,600

As-Tested Price:

$133,780 (est.)
---
By Jeffrey N. Ross
---
See also: 'Faster. Farther.' dives into the history of Porsche racing tech, Autoblog Podcast #344, Porsche celebrates 5M Facebook fans with crowdsourced one-off 911.