2014 Porsche Cayman S
Tue, 19 Feb 2013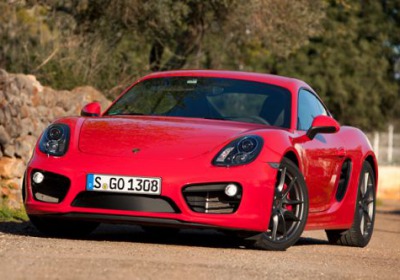 A Blue-Blooded Valentine

I need you to understand what it's like to drive this car. I'm not talking about your ability to comprehend the words on this page or process the figures that surround the 2014 Porsche Cayman S, but rather what it feels like to take control of a car conceived, designed, engineered and manufactured to set your prefrontal cortex alight with all the glee a Zippo typically reserves for pine needles marinated in jet fuel. From the instant you put your tail in the driver's seat, the Cayman sets about impregnating your veins with a full and varied spectrum of ludicrous emotion. It's not like taking the family pickup to market, I can tell you that much.

For 2014, the next-generation Cayman features many of the same styling tweaks first displayed on the coupe's drop-top cousin, the Boxster, though a spate of mechanical changes, more power, less weight and better efficiency join the party to further differentiate this model from its predecessor. And while additions like rev-matched downshifts and electronic power steering help push the Cayman into a new era, one fact remains unchanged: This is one of the best driving cars on the market. Period. Bear with me and I'll try to explain exactly why that is.

Engineers stretched the Cayman wheelbase by nearly 2.4 inches and widened the front track by 1.6 inches, and the result is a car with all four wheels pushed well to each corner. Thanks to shorter overhangs front and rear, total vehicle length has grown by a manageable 1.3 inches from stem to stern. That means it will take a keen eye to spot the machine's swell. Instead, onlookers are likely to first take note of the dramatic upkick from rocker panel to air inlet. Porsche calls the feature a "dynamic recess," and the contrasting black inlets really do shuttle air to the flat six mounted mid-ship.

Up front, the Cayman S splits from its more demure Cayman sibling with larger front air inlets framed by black plastic strakes instead of the standard body color treatment. Base models are left to suffer with a black front splitter while the S trim gets a bit of paint on the lower aero. Around back, the two can be separated via the exhaust outlet, where the Cayman uses one tip and S gets the double barrel treatment. Otherwise, the stern looks awfully familiar. Boxster fans will recognize the integrated lip spoiler stretching from tail lamp to tail lamp across the rear deck. The vehicle's mechanized spoiler, meanwhile, has grown in surface area by 40 percent to increase downforce at higher speeds.


This youngest of the Porsche sisters is still the fairest of them all, 911 included.
Designers did move the windscreen forward by nearly four inches, resulting in a finished product that looks a bit less like someone simply tack welded a roof onto the company's entry convertible. Still, the two cars share more than a few strands of DNA, and despite protests from engineers and designers alike, shoppers will inevitably look at the pair's third generation as two shades of the same hue.

As if that were a slight. This car is drop-dead gorgeous in the flesh. With its lusty flanks and new, optional 20-inch wheels, the Cayman looks more mature than ever. While purists can hem and haw all they like, the truth is the youngest of the Porsche sisters is still the fairest of them all, 911 included.

Meanwhile, the cabin has remained largely untouched for 2014. Drivers will welcome the addition of new sport seats. The thrones manage to thumb that fragile line between support and comfort, serving up fantastic lateral support without cutting off circulation to the body's more sensitive environs over a long haul. If I could afford it, I'd have them for every seat in the house, toilet included. Standard trim serves up a set of manually adjustable buckets with Alcantara inserts, though our tester came rocking power adjustable seats dipped in leather. European buyers, meanwhile, get to option up to a set of carbon fiber, fixed-back race buckets capable of bonding the seat of your jeans to the car's chassis on a molecular level. Unfortunately, the gear doesn't pass crash safety in the US, though we hear Porsche is working on that one. Keep your fingers crossed.


The base Cayman is now twice as rigid as the Boxster and substantially stiffer than even the 911.
Otherwise, the Cayman cabin features redesigned air vents, and the option sheet now comes packed with a 12-speaker Burmester sound system. By some engineering wizardry, the system turns out some 851 watts of power while tipping the scales at a scant 14.3 pounds. Regardless of whether or not you opt for the black-art stereo, odds are you'll appreciate the extra interior room over the second-gen Cayman. For 2014, the model boasts a total of 15 cubic feet of cargo area, up a little over half a cube overall. In addition, the longer wheelbase delivers a bit more leg room as well.

As with most Porsche products, it's what you don't see that separates Cayman generations, starting with the chassis itself. The body shell is now 44-percent aluminum for the first time. The move slashed body-in-white weight by some 103 pounds while increasing torsional rigidity by a baffling 40 percent. What does that mean, exactly? Porsche says the base Cayman is now twice as rigid as the Boxster and substantially stiffer than even the 911, making it one of the most rigid sports car chassis in the world.

Both the 2014 Cayman and Cayman S bring extra muscle to the table. Our S tester came with a 3.4-liter flat-six engine pumping out 325 horsepower at a screaming 7,400 rpm and 272 pound-feet of torque from between 4,500 and 5,800 rpm. More impressively, the six can wrap its tach all the way to 7,800 rpm before hitting the limiter. While a six-speed manual transmission is standard equipment, our machine came equipped with the nutty-good PDK dual-clutch seven-speed transmission. Those who stick with the row-your-own can now look forward to rev-matched downshifts when in Sport mode.



Hit the key and that menacing flat six barks and snarls before settling into a smooth idle.
Engineers also turned a keen eye on helping the Cayman S get down from speed, and as a result, the coupe now features the same front brakes as the mighty 911 itself. With stiffer four-piston calipers, better cooling and larger 13-inch front discs, the clamps had no trouble shouldering two days of hard driving through the twisting hills of southern Portugal, complete with a morning of bashing around the Autodromo Internacional Agarve – a fiendish track used for Moto GP events and Formula One testing. Carbon ceramic brakes are also available, offering up lifetime durability in non-track use as well as a substantial cut in unsprung weight. Porsche says going for the carbon discs can pull as much as 52 pounds from the brake system's total mass.

But again, all that information doesn't so much as utter a syllable about how it feels to pilot this car. Slide into the driver's seat and the 2014 Cayman wastes no time in serving up what might be the perfect driving position. Those excellent buckets situate you high enough to deliver plenty of visibility with all but the tops of both fenders clear from view. Hit the key and that menacing flat six barks and snarls before settling into a smooth idle. If your heart hasn't started beating to match time with the flat six by now, you might want to get the organ checked.

Under civil driving conditions, the PDK gearbox is content to prattle along with nearly imperceptible shifts. Under deceleration, the drivetrain can also kick into a coast mode to save fuel, and an auto start stop system means the driveline keeps from sucking down gas while the car is at a stop. Kick the two-door into Sport mode, stiffen the optional adjustable suspension, crack open the available sports exhaust and the car opens up like the maw of some hyperactive sea beast, whipping from comfortable tourer to mountain crest hellion with a few button presses.


The Cayman S can clip off a 0-60 run in a shave under 4.7 seconds on the way to a terminal velocity of 175 mph.
Diving into the throttle results in blistering response, and while the flat six doesn't exactly provide neck-snapping acceleration, thrusters kick in once the engine finally starts stirring up some torque. Officially, Porsche says the Cayman S can clip off a 0-60 run in a shave under 4.7 seconds on the way to a terminal velocity of 175 miles per hour. What's more, the company says it managed to whip around the infamous Nurburgring in 7 minutes, 55 seconds. That time is a full 11 seconds quicker than the second generation.

Clearly straight line punch isn't what the Cayman is about. Get off onto a tickling thread of asphalt and the car begins stroking your ego in earnest. The platform is nothing if not confidence-inspiring. With each bend and twist, a sultry German voice in the back of your skull whispers what you knew all along: You really were cheated out of a career in the World Rally Championship.

Those of you who started bellyaching when you first heard the Cayman now comes with electronic power steering can politely shut your faces. The tiller is as precise as you're likely to find on any machine, delivering excellent feedback with plenty of communication. If you don't know what the front wheels are doing in the Cayman S, you can't blame the car.


If you don't know what the front wheels are doing, you can't blame the car.
The PDK really is the only "automatic" transmission I've had my hands on that can accurately anticipate which gear I need to be in for whatever assault on proper driving I'm attempting to execute at that particular moment. The shift logic is something from another future, one where there's a little German gnome clinging to your brain stem and barking commands at the gearbox via HAM radio. Go for the wheel-mounted paddle shifters and the hardware pops off blistering shifts that hit like a telephone book to the lower back. As a die-hard defender of the manual transmission, I can honestly say this tech is driving bliss.

Get the Cayman S out on a track and it's immediately clear what Porsche has cooked up with this car. The platform is incredibly forgiving, turning even butter-fisted yokels like myself into competent lappers. With a little prompting, the Cayman will rotate in a nice, slow, even breakaway before squatting on its haunches and popping out of a corner. Those massive brakes tolerate regular sieges without drama or significant fade, providing a confident pedal with excellent initial bite. That's true even after a handful of hard laps trying to chase down a 911.


It doesn't take much strolling to walk right up to the $90,000 barrier on this car.
If this all sounds like a love note, it should. The 2014 Cayman S isn't just good. It conjures explicative-laced smiles from your lips like a bucket draws water from a well, but that doesn't mean I'm a smitten man. As lustworthy as the Cayman S is, kitting one out to the level of excellence found in our tester will see you spend some serious cash. It doesn't take much strolling to walk right up to the $90,000 barrier on this car. While the base MSRP of $52,600 is more manageable, the Cayman S starts at $63,800, and by the time the dust settled on our tester's price tag, we were looking at $88,220, including a $950 destination fee. Getting frisky with the option sheet puts you in deep waters prowled by the likes of hardware like the Chevrolet Corvette Z06, as well as plenty of sheetmetal decorated with letters like AMG, M and even CTS-V.

Do any of those machines serve up the kind of handling found in the Cayman S? No, but plenty come close enough while delivering skull-crushing power as an added bonus. Even after a two-day affair with the Cayman S, it was hard to escape the sensation that opting for this machine is more about slapping lesser nobles with your cash phallus than taking home the best performance buy. Porsche has built one hell of a machine in the Cayman S, but the car doesn't operate in a vacuum. We live in what may very well be the best era in the history of sports cars for the money, and with less power and a larger price tag than even the Boxster S, it would take a lot of cajoling to put me in the driver's seat over other metal on the market.


Vital Stats
Engine:

3.4L Flat-6

Power:

325 HP / 272 LB-FT

Transmission:

7-Speed DCT

0-60 Time:

4.7 Seconds (0-62)

Top Speed:

175 MPH

Drivetrain:

Mid-Engine, RWD

Curb Weight:

2,910 LBS

Seating:

2

Cargo:

15 CU-FT

MPG:

NA

MSRP:

$88,220 (as-tested)
---
By Zach Bowman
---
See also: Porsche acquires ANDIAL, will integrate with in-house motorsports, J.D. Power: Vehicle dependability at all-time high, Lexus and Porsche lead, Porsche celebrates 50 years of 911 with some excellent pics.