2014 Mercedes-Benz CLA250 Sport
Wed, 06 Mar 2013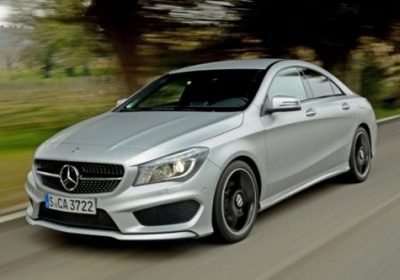 Mercedes Makes A Mighty Little Sedan

We got overexcited when the W203 Mercedes-Benz C-Class sedan came out in 2001, calling it the "Baby Benz" when it really wasn't. We knew that, too, but our enthusiasm for a model more like the old 190 of the '80s was so strong that we were willing to stretch the first-gen C-Class to fit that mold. Today, the C-Class has done what all German premium cars do: grown in size. In this case, grown to satisfy the market intentions of the previous E-Class.

There was the tall A-Class sold from 1998 through 2010, but we never considered that a serious small Benz in the proper spirit, nor was it ever offered in the US. Regardless, we've been craving a smaller, premium, sexy sedan all the while.

As you read this, Mercedes-Benz has just unveiled, with great fanfare at this year's Geneva Motor Show, the production CLA-Class. We saw the car at the Detroit Auto Show in January, and the Concept Style Coupe that led to the CLA was first seen in China at the 2012 Beijing Motor Show. The CLA – a.k.a. "the baby CLS" – is finally here and we've driven it.

The name CLA stands for "Coupe Light A-Class" in keeping with the CLS that set the four-door coupe standard. Think of it simply as the A-Class that we get. The CLA arrives in European markets this April and will compete with the future BMW 2-Series Gran Coupe sedan and Audi A3 sedan, both of which will be introduced over the next twelve months.


It starts at $30,825 with FWD and around $33,500 with the AWD 4Matic system.
Starting at $30,825 in the US with front-wheel drive and around $33,500 with the all-wheel-drive 4Matic system, the CLA's long list of premium and near-premium competitors should make for some fascinating comparison testing with Japanese, Korean and American rivals. And you, too, Volvo V40, once they slap a trunk on you. The US will get the top trim CLA250 only, with front-drive models arriving in September of 2013 and 4Matic versions coming by Spring 2014. Some of us may be irked by the exclusion of smaller gas and diesel engines from the US market. Some others will dislike that there is no six-speed manual offered (the standard transmission in all markets outside of North America), only the somewhat-new 7G dual-clutch seven-speed.

As soon as we heard that all CLA250s destined for the United States were to come standard with a lowered sport suspension, we were all over spending more time with the front-wheel-drive sport chassis test cars, which is what you see here.

The interior you see on this CLA250 Sport is part of the limited-run Edition 1 trim, which gets the sport leather-dressed Neon Art performance seats with yellow stitching, the very nice blackened AMG design 18-inch alloys, the aforementioned sport chassis, AMG-look aero bits, bi-xenon headlights, and synthetic leather-covered dash and console surfaces. The US will only receive 750 units of the CLA250 Edition 1, though none offering a manual.

So we took off through the rustic, hilly wilds of southern France, much like a bat out of Hell, or at least as hellishly batty as this most aggressive CLA model can run. The first order of business was to simply feel the calibration of the sport chassis in motion. This particular calibration lowers the CLA some 0.8 inches in the front and 0.6 inches in back. Throw in the electro-mechanical steering and Merc's Direct Steer technology, and we were optimistic about how things would turn out over 200 miles of twisty French two-lanes.


We enjoyed ourselves – a lot – at medium-to-quick speeds.
On these older driving surfaces, the Euro-style road noise came through easily via the 18-inch 225/40 Continental ContiSportContact5 run-flats that come equipped with the sport chassis. We enjoyed ourselves – a lot – at medium-to-quick speeds, but at slower around-town velocities, the tires thwacked us every time an imperfection or sewer head popped up. That's fine for those who opt for it, but equipping all CLAs in America with this default setup? Not a bullet-proof plan, we thought.

Mercedes project leader for compact cars, Hans-Georg Engel, responded frankly to our questions regarding this issue. Apparently, the plan is shifting as we speak. Now the logic is to bring over both the sport and comfort chassis setups. For now, that means still having the sport chassis as standard and the comfort setup available for order. But will it be offered by dealers as a no-cost option? This last detail is still TBD. Or the comfort calibration could, down the road, be standard and the sport chassis become part of a more aggressive sport package option. Call us wusses, but this re-thinking seems right if Mercedes wants to sell a lot of CLAs in the US.

Engineer Engel also shared with us that, seeing as part of the CLA's good looks and kinship to the CLS rests on its lower stance, a new setup could be formulated in time for US deliveries that essentially combines the comfort dampers with the shorter sport springs. It would require more than just a switcheroo, but we're most in favor of this alternative. The other wish-list item is some simpler form of optional adaptive suspension, a suggestion Engel pretty clearly supported, provided it doesn't push up the price of the CLA to conflict with base C-Class trims.



The CLA is 1.5 inches longer and a little wider than the C-Class, while sharing the 2.4-inch-shorter wheelbase of the A-Class.
While we did just get finished harping on about the sport suspension's roughness, once we got out on wide open roads with hairpins, bends and the like, this chassis tune showed that it was both capable and smooth – even on those brick-like 18-inchers. Understeer was minimal, weight transfer was very good, and we felt no untoward torque steer while punching the throttle coming out of turns. This was reassuring, seeing as the CLA is 1.5 inches longer and a little wider than a C-Class, while sharing the 2.4-inch-shorter wheelbase of the A-Class, along with the A's slightly narrower tracks. Weighing 150 pounds or so less than the most equivalent C-Class sedan also helps its dynamics.

Then there's the feel coming from the motor and software of the electromechanical steering system provided by Jtekt in Japan. On the more hectic sections of road, there was less time to notice the action of its thinking and re-thinking process. Where it really stood out, though, is through longer curves with constant or decreasing radii; the feel is of the trajectory being instantaneously and subtly remapped and executed many times, and so lacking the smooth and constant steering angle feel we're accustomed to.

The real help here comes from the re-engineered transverse "M270" 2.0-liter four-cylinder engine, with an ICSI turbocharger good for 14.5 psi of constant maximum boost pressure. The power is a pretty universal 2.0T-like 208 horsepower, while the torque raises its game nicely to 258 pound-feet between 1,200 and 4,000 rpm. Our other pal, Mr. Guido Vent in charge of gas engine development on smaller Mercedes vehicles, tells us that there is an unadvertised overboost effect during kickdown with one's foot to the floor, which results in roughly 13 more hp and 15 more lb-ft of torque for brief bursts.


There's an unadvertised overboost effect during kickdown that results in roughly 13 more hp and 15 more lb-ft of torque.
On these test routes, we had several opportunities to try out this overboost effect for passing maneuvers and we can say the powertrain pulls pretty dang well throughout the middle rev range. 0-to-60-mph acceleration in the CLA250 Sport should happen in 6.5 seconds or less, according to Mercedes, with top speed set at 149 mph. Fuel mileage, meanwhile, is seen as roughly five-percent better than in the larger C250 Sport sedan with 1.8-liter turbo, so around 23 miles per gallon in the city and 33 mpg highway.

Our running lack of enthusiasm for the 7G seven-speed automated gearbox carries on here. When driving with verve or sporting expectations, this dual-clutch version of the transmission is perfectly fine. But flip into Sport or Manual modes and go on the attack, and the current calibration of the tranny's software seems overtasked frequently, as though it really doesn't like being told to do quite so much. As we have said in other such reviews of Mercedes' various 7G transmissions, the company insists that it is working on crispening up Sport shift actions across the lineup.


Not since we long ago drove the GM EV1 have we felt so much as though we were slipping through the air.
Though the road noise through the Contis was noticeable, the CLA's world record low aerodynamic resistance (for a series production car) of 0.22 coefficient of drag in the Euro-trim CLA180 BlueEfficiency only rises to 0.23 for the rest of the models in the CLA catalogue. Not since we drove GM's EV1 with a CoD of 0.19 have we felt so much as though we were slipping through the air. Mercedes aerodynamics expert Patrick Höfer says simply, "Put the trunk on any vehicle and air turbulence diminishes quite a bit." Designers and engineers worked with aerodynamicists for the CLA more than is usual with other models. Coefficient of drag on the A-Class hatchback, in fact, is 0.27 and moves to 0.26 on the BlueEfficiency model – just to show the major leap in turbulence versus the knife-like CLA numbers. As a result, wind noise around the outside of the CLA's cabin is nearly not there.

As this form follows pretty dramatically its aerodynamic function, we can get right into the design. We enjoy the A-Class styling a bunch already, and every nuance from adding the trunk for the CLA is a pleasing one. That is, all except the tumble-home on the sheet metal at the very rear that involves the rear fenders, taillight elements and the trunk lid. Those rear corner zones are not as elegantly executed as the rest of the CLA, though each piece taken on its own is quite elegant. The chief culprit as we see it is the elevation of the rear deck lid, done thus for optimal aerodynamic effects. Pooching up the integrated and curved ducktail lip spoiler was needed to get the CLA's extraordinary 0.23 CoD. Regardless, the CLA's profile view is a fetching one.


We're eager for the more interesting CLA 45 AMG.
The in-cabin experience of the CLA stresses sportiness over all else, particularly on our Sport trim model. Rear headroom does suffer somewhat versus the C-Class sedan but is nonetheless livable. We wished for a sport exhaust sending some emotions back into the cabin, but all things in due time, we're certain. Looking at trunk space versus the C-Class sedans, they are just about identical at a US-rated 12.4 cubic feet, and the CLA rear seat backs are easy to flop forward and put back.

Mercedes-Benz has a small, premium feeling sedan we can work with happily in the CLA, and we're eager for the more interesting CLA45 AMG that will debut later this month at the New York Auto Show. There are improvements to be made in some areas that would make the non-AMG CLA a knockout hit in this segment, including a more inclusive suspension strategy to sell the car to more people, improving the feel of the electromechanical steering and Direct Steer, and further refinement of the 7G DCT for snappier shifts when desired.

The substance of the CLA message is there for now: This is a good and solid baby Mercedes sedan with above average build quality, great ambitions and looks that fit the established brand image worldwide.


Vital Stats
Engine:

2.0L Turbo I4

Power:

208 HP / 258 LB-FT

Transmission:

7-Speed DCT

0-60 Time:

6.5 Seconds (est.)

Top Speed:

149 MPH

Drivetrain:

Front-Wheel Drive

Curb Weight:

3,260 LBS

Seating:

2+3

Cargo:

12.4 CU-FT

MPG:

23 City / 33 HWY

Base Price:

$30,825
---
By Matt Davis
---
See also: 2014 Mercedes-Benz C63 AMG Edition 507 still lights our fire, Brabus 800 Roadster is a power-mad aristocrat, Carlsson SLK 340 Judd is winged up for hill climb glory.