2014 GMC Sierra [w/video]
Mon, 29 Jul 2013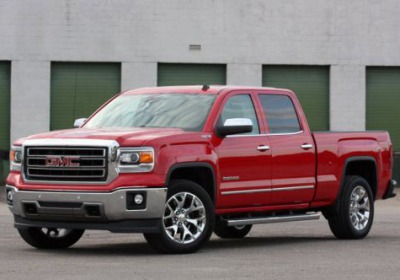 Big And Boxy Might Be Best



As immense fans of the Back to the Future trilogy, we sometimes like to envision an alternate timeline in which General Motors had killed off GMC and kept Pontiac instead. The G8 GXP would still be on the road handily beating German sport sedans costing twice as much, while the lowly G3 would morph into a true subcompact-killer based on what is now the Chevrolet Sonic RS. While we're at it, let's go ahead and imagine the G6 has become the best-selling car in the US and the Torrent crossover is selling 20,000+ units per month. Far-fetched, we know.

The thing is, these fanciful statements would have to be true to make the case against keeping GMC. Pontiac may have offered more excitement than GMC, but money talks, and a full line of trucks, crossovers and SUVs have made a lot more money for GM than the arrowhead brand ever did. How much? As we learned last month, about two-thirds of GM's global profits came from its fullsize trucks, and GMC's trucks typically have thicker margins than their Chevrolet counterparts.

So rather than reviewing the latest Pontiac G8 ST, here we are driving the new 2014 GMC Sierra 1500. During our first drives of both the 2014 Chevy Silverado and 2014 Sierra, it was immediately clear that these trucks are the best they've ever been in their 54-year histories, but to see how GM's new trucks stack up against the likes of the Ford F-150, Ram 1500, Toyota Tundra and Nissan Titan, we were looking forward to spending a whole week with a fully loaded Sierra SLT Z71 for this review. Sadly, our time with the Sierra was cut short as it had an unexpected date with a flatbed and a trip to the dealership.




If nothing else, we learned how well OnStar and Roadside Assistance work.
Let's get that out of the way up front: A "vehicle communication problem" left us stranded in a parking lot during a late-night errand. The truck was just fine getting to the store, but upon returning to it in the parking lot, it wouldn't start. Everything seemed to be working fine – lights, gauges and stereo – except that when the key was turned, nothing would happen. No crank. No start. Nothing. Even as the Sierra was being loaded onto the flatbed, we tried one more time to start the truck, but no dice. This made it even more frustrating when as soon as the truck was unloaded at the dealer and the after-hours paperwork was filled out, the truck started up just fine. To be safe, we left it for the dealer to analyze. GM's official response is that our tester experienced a fluke issue with its security system/vehicle immobilizer, though officials have admitted a similar issue had happened once before to another GM-owned Sierra.

This isn't the first time a vehicle has left our possession hooked up to a tow truck, but it could very well be a record for a vehicle's untimely exit with the fewest miles on its odometer: just barely past the 600-mile mark. If nothing else, we learned how well OnStar and Roadside Assistance work. Aside from this hiccup, the truck performed without issue, but as it turns out, that late-night encounter was the last time we saw that Stealth Gray Metallic Sierra, which is why the images you see here are of a Fire Red Sierra instead.





The best part of the Sierra's styling is its old-school ethos.
Other than the color, the truck we photographed is all but identical to the Sierra used for the basis of this review, right down to its top SLT trim level and stylish 20-inch wheels. For once, the Sierra is arguably the better looking of GM's fullsize trucks, and one could even suggest its styling tops that of the Ford F-150 as well as the long-ignored Nissan Titan and the recently redesigned Tundra. Perhaps the best part of the Sierra's styling is its old-school ethos. GM's truck styling has improved with each generation, but they have yet to stray too far from the classic boxy look as Ford, Toyota and especially Ram have all done in recent years.

While Chevy toes the line between brand awareness and overkill with its awkwardly stacked headlights on the Silverado, the GMC Sierra has a more imposing face with its oversized grille and LED-trimmed headlights. The Sierra also has a stronger look thanks to its bulging fender arches and enhanced selection of wheel options, including the 20-inch rollers seen here with a V-spoke design. Aside from that, though, the Sierra and Silverado are identical twins right down to their integrated rear bumper steps and upswept beltline on the rear doors that, at least to us, just looks out of place. As is the case with any truck, the Sierra's money maker is its cargo bed, which welcomes a few compelling features for 2014.







The tailgate uses a torsion bar to make it easier to raise and prevents slamming when being opened.
There are the factory spray-in bedliner and adjustable tie-down mounts, but GMC has also added options like LED lights built into the underside of the bed rails and a nifty EZ Lift and Lower tailgate that uses a torsion bar to make it easier to raise and prevents slamming upon opening. One thing we could have done without (or at least less of) is an overabundance of chrome, but the Sierra is also available with front and rear bumpers in body color for no extra charge. Opting for more of the monochromatic look also means dumping the chrome wheels and running boards, but that would have knocked a few thousand dollars from this truck's as-tested price.

If you've been keeping up with our recent truck reviews, you'll know that the price for a fullsize pickup can get out of control quickly – including $70,285 for a certain Ram 3500. Even so, this SLT 4x4 tester's price tag went from a $43,910 to a jarringly lofty $50,185 with options and a $995 destination charge included. That is almost double the price of a base 2014 Sierra, which starts at $25,085, and we expect it will be eclipsed by the more luxurious Sierra Denali due out this fall.




As one would expect from any vehicle priced this high, the Sierra SLT comes stuffed with plenty of goodies, but GMC has stepped up by giving the new Sierra a cabin design that is both stylish and modern without losing its truck-like practicality. Trucks were made to get work done, so their design needs to put function over form. This is why the toggle switches below are large and other buttons and knobs throughout the cabin are easy to use with work gloves on. There are, however, several pieces of cheap-looking faux wood trim, which stood out as eyesores on the cabin's dark interior.


One thing to love about the new Sierra is that it still offers a column shifter.
Better yet, just like we've seen from recent GM products, the Sierra's cabin quality puts it near the top of its class, perhaps just barely behind Ram's recent effort, with an excellent mix of leather throughout the cabin, real aluminum accents and rubberized control knobs and steering wheel buttons. One thing to love about the new Sierra is that it still offers a column shifter while fancy F-150s get a console-mounted shifter and the eight-speed Rams have a questionable rotary shift knob.

The Sierra truly shines with its cabin tech, starting out with the optional ($795) navigation and IntelliLink infotainment system, which has all of the customization and easy-to-use functions that we've seen with the latest-gen Chevy MyLink. Like we saw in the 2014 Impala, this large, eight-inch touchscreen display is reconfigurable to offer custom shortcut links at the top of the screen and a large number of "favorite" buttons at the bottom that can be programmed to radio stations, specific artists and songs, navigation destinations and even phone numbers.



Our Sierra also came with seat vibrators built into the seat bottom that are used in conjunction with the lane departure warning, forward collision warning and backup monitoring systems to alert drivers of potential dangers. Finally, the Sierra can also be used as a mobile office – or an excellent family road trip vehicle – with its multitude of connection and power sources, with the lower center stack alone offering three USB ports, two standard power outlets and a household three-prong outlet.


The new powertrain is where this half-ton truck really excels.
While the Sierra is definitely near the top of the pack for its much-improved interior and exterior, the new powertrain is where this half-ton truck really excels. Ford's EcoBoost V6 uses a lower displacement engine and turbochargers, while Ram gets a little more techy with an eight-speed automatic, active grille shutters and adaptive air suspension. GM's new trio of Ecotec3 engines rely on aluminum blocks, direct injection, cylinder deactivation and continuously variable valve timing to produce plenty of power while returning respectable fuel economy. Our test truck was fitted with the middle-child Ecotec3 5.3-liter V8, which produces 355 horsepower and 383 pound-feet of torque.

At launch, all new Sierras will come with a six-speed automatic, and this combo helps return fuel economy numbers of 16 miles per gallon in the city and 22 mpg on the highway – both easily attainable in real-world driving – while more gears are likely coming in the near future for better efficiency. For a little extra bragging rights, this V8 has the exact same fuel economy as the Ford F-150 with EcoBoost, although Ford's torquey twin-turbo V6 does lay down a pretty good amount of towing power. The GMC is no slouch, however, as our tester has a tow rating of 9,600 pounds, and the 2014 Sierra tops out at 12,000 pounds with the Max Trailering Package. Since we got all of our towing and off-roading exercises out of the way during our first drives of the Sierra and Silverado, we focused on everyday usability for the big truck this time around.




The sole disappointment of the driving experience was a sluggish throttle response.
The phrase "It rides like a truck" means something much different today than a decade ago. You still sit up high and have a commanding view of the road, but no longer does a short trip make it feel like you just went a few rounds with Roy Jones, Jr., and the interior is remarkably quiet, even at highway speeds. From a passenger's perspective, the Sierra is comfortable and spacious with the Crew Cab having plenty of room for five adults, and it offers wide door openings and optional running boards to aid ingress and egress.

As a driver, the Sierra is easy to pilot and might be the smoothest-riding truck on the road. We were so surprised by the Sierra's comfortable comportment that we took the truck down the worst washboard dirt road we know, which is usually enough to get an empty cargo bed to wag back and forth. No matter the road surface, the Sierra handled itself impressively well, possibly even better than the Ram 1500, which uses coil springs instead of rear leaf springs to attain its smoother ride. And lest we forget, this Sierra was optioned with Chevy's Z71 off-road package that adds skid plates and Rancho shocks. We found the electric power steering to be evenly weighted in low-speed and highway driving and the big four-wheel disc brakes were well balanced, both of which helped the Sierra drive more like a big sedan than a three-ton, fullsize truck. The sole disappointment of our driving experience was the Sierra's sluggish throttle response. Whether we were just backing up or trying to pass a car, the throttle always required a little more effort than expected (perhaps that's part of a tuning strategy to improve fuel economy).




We did get enough seat time to determine that GMC had done its homework.
Of course, our biggest disappointment with the all-new Sierra 1500 is that we didn't get to spend a full week with it, but snafu aside, we did get enough seat time to determine that GMC had done its homework when engineering its new truck. In the highly competitive fullsize truck market, though, GMC won't have any time to catch its breath, as the next-gen F-150 will debut next year and another new Ram should follow shortly thereafter. GM is reportedly already working on upgrades for the Silverado and Sierra over the coming years, focusing on a big shift toward lightweight materials and even better fuel economy.

In the eyes of automakers, fullsize trucks are dollar signs, and the GMC Sierra was the main reason this brand survived while Pontiac, Hummer and Saturn perished. Even though the Sierra outsells the Tundra and Titan combined, its sales fall short of the Ram and F-150 by large margins and it's outsold by its identical twin by a margin of almost 3:1. The 2014 GMC Sierra may lack the popularity of its domestic competition, but it's still a top-tier choice for truck buyers, delivering style, technology, size and comfort, whether you're looking for a family vehicle that can tow just about anything or a rugged truck to get around the job site.


Vital Stats
Engine:

5.3L V8

Power:

355 HP / 383 LB-FT

Transmission:

6-Speed Auto

Drivetrain:

Four-Wheel Drive

Curb Weight:

5,345 LBS

Towing:

9,600 LBS (as tested)

Seating:

2+3

MPG:

16 City / 22 HWY

Base Price:

$25,085

As-Tested Price:

$50,185

Research the 2014 GMC Sierra 1500 »
---
By Jeffrey N. Ross
---
See also: GM reportedly recalling select 2014 Silverado, Sierra pickups over airbag issue, GM planning to put its fullsize pickups on a big diet, too, GMC vehicles earn spot on Madden NFL 25's roster.