2014 Ford Fiesta Titanium
Mon, 28 Oct 2013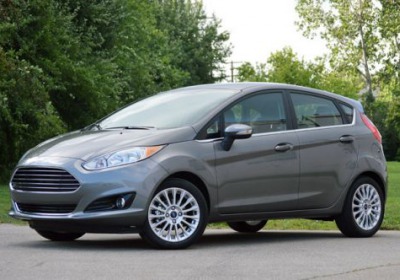 You might not be interested in owning a subcompact (B-segment) hatchback for $20,000. Let's be clear from the get go here: there are any number of reasonable arguments for staying away from the highest-content versions of these small cars. Ford's player in the B-segment arena is the newly updated 2014 Fiesta, and the Titanium trim represents the most luxurious instantiation of the model. We recently were loaned a Fiesta Titanium for a week, whose final sticker price hit $20,390, with navigation being the only standalone option added to the bottom line. By way of comparison, the most basic version of the all new, one-segment-up Mazda3 hatchback costs $19,740 with delivery and destination accounted for, and no options added on.

Hold on to that thought for a moment, we'll get back to it.

Ford has done some seriously good work to update the Fiesta for 2014, though a lot of the effort has gone into making an already good-to-drive car look a lot better sitting still. The most immediately recognizable change to the car has been wrought on the front fascia, where Ford's newest corporate face means the Fiesta sports an expansive new grille. The hexagonal kisser lends the same sort of Aston Martinesque vibe to the Fiesta as it did to the new Fusion, and the Titanium's standard multi-spoke, 16-inch aluminum wheels help to complete the idiom.




The '14 Fiesta would have made a convincing case as an alternate-reality Aston Martin Cygnet.
In fact, when we started lining up the front-facing photographs of our Storm Gray tester we were struck that the '14 Fiesta would have made a convincing case as an alternate-reality Aston Martin Cygnet, had Toyota not secured that gig for its Scion iQ. We're not sure that counts as a missed opportunity for Ford, but the point remains that this '14 Titanium trim is worn quite well.

Open the driver's door and you'll see that some small-car-premiumness carries on inside the Fiesta cabin. The standard leather seating and steering wheel wrap are touches that felt like a huge win for the segment back when Fiesta launched, and they still help to set the Titanium apart in 2014. Crosstown rival Chevy Sonic can be had with leatherette seating, but not the real cowhide, and the Hyundai Accent will wrap your steering wheel in leather if you opt for the SE trim, but not your seats. The Ford chairs are the sort of flat-bottomed variety, with not much in the way of thigh support, that you'd expect in a car worked to maximize space for drivers of all sizes. Your author found the head and neck support to be impressive (I'm super tall, too), but the lateral hold to be below average.



In addition to looking spendy, the new-school integration of a MyFord Touch-enabled, 6.5-inch touch screen does a lot to clean up the tiny-button-strewn mess of the out-going Fiesta's control center. Our car offered SYNC as well as the optional ($795) navigation system, and we found all to be reasonably easy to use, honestly. The display screen proved bright and simple to read, and the touch controls slightly faster to react than we'd expected given previous disappointments with MFT.


The biggest 'premium' differentiation for the car ... is the quiet, controlled ride.
As a whole, the soft-touch plastics, brushed metal and gloss black accents, and big bright gauges all worked in harmony to make the Fiesta Titanium seem pretty upscale while in use. But the biggest 'premium' differentiation for the car when compared with its competition is the quiet, controlled ride. Ford has gone to a lot of effort to make the Fiesta feel a lot like a bigger car, including modulating the ride quality to filter out bad road surfaces, and deaden tire and wind noise to the point of class leadership. While our personal preference is to have more steering feedback from our small cars, we'll admit that the Fiesta's slightly light, filtered feel through the tiller is well matched to its overall package.

For a small, short-wheelbase car, the hatchback feels more at home cruising than it does nipping from one corner to the next. Sure, the structure of the car is plenty rigid, and should you feel the urge it'll do just fine being lobbed around a groovy piece of tarmac. But the low levels of tactility and the hushed confines of the Fiesta really put the driver in more of a mind to meander than to attack corners.




The combination of the 1.6-liter four-cylinder engine and the five-speed manual transmission are part and parcel to this laid-back nature. The manual gearbox is better suited to harnessing every bit of the 120 horsepower and 112 pound-feet of torque, should you need to cover ground in a hurry, but its light action and long throws won't be confused for a sports-oriented piece of equipment, either. Still, clutch and gearbox are so simple and painless to operate, that we can't imagine opting into the six-speed "PowerShift" automatic unless we were dead set on getting mildly better fuel economy. (The manual car is rated at 29 city and 38 highway miles per gallon, while the auto will do 30 and 40 mpg, respectively.)


It's worth noting that the best may be yet to come in terms of powertrains here.
It's worth noting that the best may be yet to come in terms of powertrains here. We got a brief turn in a Fiesta equipped with the EcoBoost three-cylinder engine and a five-speed manual last year, and still think that a fully loaded car with that 123-hp, 148-lb-ft powertrain might be the ultimate sweetheart of the lineup. For now, Ford's only making that engine available as an option on the SE model, and with a manual transmission only.

To sum up, for around 20 grand ($19,595 with destination and no options) Ford will sell you a Fiesta Titanium that does well just about everything a car needs to do, while also being feature rich and very comfortable. Back at the top of the hour we pointed out that you can also get what seems to be a very nice, completely redesigned and one-segment larger Mazda3 hatch for about the same amount of money, but at the "base" end of the trim spectrum. (If you don't like the Mazda you could put Focus, or possibly Golf, in here, too, though fewer and fewer C-segment cars offer hatchback configurations).




If you're interested in the "bigger car" thing that Ford is putting forth with Fiesta, why not just opt into a bigger car?
Here's why we think this is a credible exercise in comparison: the thing that separates the Fiesta from its B-segment hatchback contemporaries the most is the aforementioned ability to drive like a larger car. Sonic and Accent are both extremely good cross-shops for Fiesta in terms of price, size and equipment. In fact, with more power and very close fuel economy ratings, we'd argue that the Chevy and the Hyundai might be better values than the Ford overall. But both of those cars drive a lot like traditional subcompacts, with more feedback and noise, slightly less stability at speed, etc. The same case is writ large for the even more athletic Mazda2 and Honda Fit, both of which are great fun to pilot, but far more elemental than the mature Fiesta. (The Honda and Mazda are also being generationally updated as we speak, and might well come out as more fully baked competitors when that happens.)

So, if you're interested in the "bigger car" thing that Ford is putting forth with Fiesta, why not just opt into a bigger car? Well, in the Mazda3 example, you're not actually giving up that much in an area that you'd expect to be dominated by the larger C-segment offering: interior space. Well, sort of. The Mazda does have about 10 cubic-feet more of total interior volume, but a lot of that is allocated behind the front seats. Up front, the Fiesta offers more headroom and the same amount of legroom as does the Mazda, albeit in a much narrower package (Ford gives up 4.5 inches of shoulder room). If you're someone that doesn't regularly make use of your backseats, that's a surprisingly competitive amount of cabin to work with, considering the Mazda3 is 16-inches longer overall than the Fiesta.



There's not a perfect trim-level comparison to draw, but getting roughly the same equipment in the Mazda3 that we tested in our Titanium will mean opting for Mazda's Grand Touring trim. That leads to a Mazda3 that costs just about $24,000, with larger wheels and no leather, when all is said and done.


All the content of a C-segment car (give or take) with the same sort of on-road experience, but in a smaller package.
Everyone loves having a lot of options, and our point here is that the Fiesta Titanium seems to give us an important one that hasn't really existed in the market before. All the content of a C-segment car (give or take), with the same sort of on-road experience, but in a smaller package. To some folks, that doesn't feel like much of a deal at all; they see a smaller car in the driveway as less impressive than a larger one, period. Or they want more performance from a larger engine, or they'll make use of the backseat more frequently. But the Ford is intriguing for buyers that are perhaps single, live in urban areas or otherwise value a car with a small footprint, and yet still want as many bells and whistles as can practically be expected. Give up some elbow room, gain a bit of the posh. The choice is (now) yours.

There are a lot of people out there that will take one look at the $20k sticker price, chuckle, and move on to the next Autoblog review. But as the case of the small car continues to advance in the US, we think there's a real opportunity for half-pints like the Fiesta Titanium. The proposition is a bold one for the traditionally size-obsessed American car buyer: value is not measured in wheelbase inches. The small car has become an option, rather than a last resort.


Vital Stats
Engine:

1.6L I4

Power:

120 HP / 112 LB-FT

Transmission:

5-Speed Manual

Drivetrain:

Front-Wheel Drive

Curb Weight:

2,537 LBS

Seating:

2+3

Cargo:

14.9 CU-FT

MPG:

27 City / 38 HWY

Base Price:

$18,800

As-Tested Price:

$20,390
---
By Seyth Miersma
---
See also: 2015 Ford Mustang potentially 'leaked' by Car and Driver, Ford settles class action suit over defective Navistar diesel engines, Ford trademarking 'Mach 1,' possibly for Mustang.