2014 BMW M6 Gran Coupe
Wed, 08 May 2013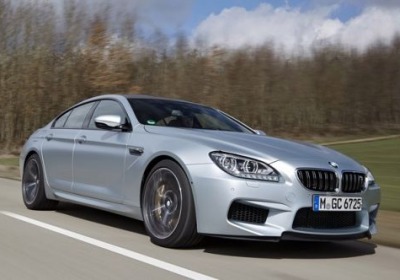 Is This A Great Idea For An M Model?



The BMW 6 Series Gran Coupe is already an issue of large debate. The essential business case for the car is that it's more distinctive than a straight 5 or 6 Series, and has much of the sense of space and luxury of a 7 Series. It has the wheelbase of a 5 Series, the relative width of a 6 Series, and an exterior length close to the standard wheelbase 7 Series. And, as we reported in our drive of the 640i Gran Coupe in May 2012, the 6 Series Gran Coupe costs pretty much the same as the 7 Series, engine trim for engine trim. The sedan (coupe?) is therefore a proposal clearly meant for an extremely particular clientele. There's no news yet on how well exactly the 6 Series Gran Coupe is selling in its chief markets, but we are curious. The Germans frequently tend not to break out their sales figures that way, mixing sales of the Gran Coupe in with the two-door 6 Series.

And, so, we have now arrived at the inevitable point where the M version must be introduced. Say howdy to the $113,000 2014 BMW M6 Gran Coupe (actually $115,195 for starters with all of the taxes added). That's $4,650 more than the also highly priced M6 coupe. Let the vehement debates begin. The upcoming 2014 Audi RS7 should be priced right at this level as well, and the Mercedes-Benz CLS63 AMG (perhaps with an S iteration in the next allotment we get Stateside) should go for roughly the same.




The M aero exterior bits and pieces have added much appeal.
First off, as a simple aesthetic comment, the M aero exterior bits and pieces have added much appeal to the stock 5 and 6 Series lineups, as has always been the case in this mid-to-large part of the BMW product portfolio. The story remains the same here for the M6 Gran Coupe, but we still do not love the front-end look of the design even in M trim. The kidney grille employed here seems weirdly out of style with the aggressive chin intakes, and the new 6 Series' recessed headlight units have never done the trick for us design-wise.

The rest of the car looks the business to a tee, and the new standard five double-spoke M 433 20-inch wheels are sweet units. The last good-looking functional bits on the M6 Gran Coupe are the lightweight carbon fiber reinforced plastic rear diffuser and aero roof, the first sighting of this latter component since the E92 M3 coupe in 2008. This roof trims some 50 pounds off that part of the car versus the standard car's sunroof-injected metal top – always good for lowering a car's center of gravitas.




As always, too, acceleration to 60 miles per hour is underestimated at 4.1 seconds.
So we'll hand it to BMW in that its designers are certainly trying hard with all of the good bits and pieces available to them for creating this very expensive, 4,430-pound sport sedan. (Sorry, coupe. Our bad.) But the M6 Gran Coupe is really meant to be an exquisite autobahn bomber dictated by the marketing department more than by anyone else. And, frankly, this launch event reflected that feeling to perfection. We were given half of one day in Munich to adequately test the car and learn about it, the other half of the day being given to the midlife Z4 roadster... a car which is already on sale and barely worthy of a thorough individual road test review, at least not in comparison to the perceived importance of the M6 Gran Coupe that has been impressed upon us by BMW.

We don't want to let that oddness color our first impression, because the M6 Gran Coupe is a great enough piece of work on its own and will bring joy and light to its exclusive club of owners. The drivetrain is pulled straight from the M5 and M6 (or X5 M and X6 M), so there was expectedly little surprise this way. We've loved the motor in those other M vehicles and we love it here. It's always impressive how light these two-ton-plus luxo-liners can feel on the longer stretches of high-speed autobahn when all 553 horses and 502 pound-feet of twin-scroll turbocharged torque go to quick work via the seven-speed M-specific automated dual-clutch gearbox. As always, too, acceleration to 60 miles per hour is underestimated at 4.1 seconds. And when you let the M6 Gran Coupe out to the 190-mph zone (with the M Driver's Package included, of course), it's once again a surreal experience as the little kilometers just fall like dominoes.





This likely puts the nail in the coffin of any thoughts for an M7.
The M6 Gran Coupe – let's face it – is the M flagship model (it's eclipsed in price only by the M6 Convertible), if ever we were really clamoring for such a thing. This likely puts the nail in the coffin of any thoughts for an M7, which is a bit of a pity really. The Alpina B7 is a fine piece of hellacious work, but we still do not understand why BMW has never pursued a nasty M7 instead. At present the lone Alpina model in the lineup feels like an odd token marketing move and nothing else. So we now have the largest M car we will apparently ever see in the M6 Gran Coupe. So be it.

This Big Gulp M is a monster. We didn't just rip and snort to 190 mph on the autobahn either. Through the brief yet well-mapped hilly and curvy portion of our prescribed drive loop, and fueled by our slight dissatisfaction with the event itself perhaps, we drove the M6 Gran Coupe somewhat angrily. But as so often happens when you do this in such a car, you realize quickly that the car has been driven much more angrily throughout its entire development life than you can muster. The large F06 chassis on its adaptive M Sport suspension with the Active M differential is just lusting to show us its metal. After a brief time, it felt like the car wanted to prove to us that it is better than its outward appearance and proportions suggest. It certainly overachieved in every department, barring some instances where understeer reared its head, given the fore/aft weight distribution of 52.3/47.7 percent. But a judicious dab of the throttle can often be enough to swing the rear end around to where it ought to be – a dangerous habit to get into, but it can do the trick on the right roads.




It is a nice feeling that BMW lets its steering remain hydraulic here.
It is a nice feeling that BMW lets its steering remain hydraulic here, as the precision we seek is mostly there despite some moments of over-assistance. A good vote also goes to keeping all of the dynamic functions of the traction, steering, shift mapping and suspension analogue-accessible around the M gearshift at the console. Everyone is wanting to remove all of that and chuck it onto the infotainment system's interface, but this hands-on solution is better and intuitive for both sides of our brain. The three-mode M DCT Drivelogicshift program (yes, written that way) is still one of our favored setups at this level of performance car. Once all of the settings are as you like, just press one of the two M Drive buttons to store that particular setup and it'll always be there for you, waiting to pounce.

The standard 20-inch Michelin Pilot Super Sport run-flat treads – 265/35 ZR20 99Y front, 295/30 ZR20 101Y rear – are, as you may imagine again, a glaring improvement over the 6 Series Gran Coupe civilian trim's run-flat Michelin Primacy HP tire set. Playing with the suspension as we pleased, it was easy to make the M6 Gran Coupe feel smooth and comfortable on these far better run-flats, while at the same time being able to snap to attention when driving hard through curves. Faint praise, sure, but these particular Michelins may be the most acceptable run-flats yet devised. Their denser contact patches worked seemingly to perfection with the $9,000-plus optional ceramic composite brake discs on our tester.



So we definitely warmed up to the whole M6 Gran Coupe proposition by the end of our precious half-day with it. The big thing more than holds its own with any other sporting sedan, and the RS7/AMG comparos will be interesting to see. The M6 Gran Coupe is out on US roads as of June of this year and we wish it well, though we do remain somewhat skeptical of this particular four-door coupe. But, hey, we aren't the target market for this monster; it's a very particular niche for rich racer lads and will likely sell in the numbers required, low as they may be.


Vital Stats
Engine:

Twin-Turbo 4.4L V8

Power:

553 HP / 502 LB-FT

Transmission:

7-Speed DCT

0-60 Time:

4.1 Seconds (est.)

Top Speed:

155 / 189 MPH

Drivetrain:

Rear-Wheel Drive

Curb Weight:

4,430 LBS

Seating:

2+2

Cargo:

16.2 CU-FT

MPG:

14 City / 20 HWY

Base Price:

$113,000

As-Tested Price:

$140,000 (est.)
---
By Matt Davis
---
See also: BMW may keep next 1 Series out of the US, Watch two championship-winning DTM cars from BMW go head-to-head, BMW i3 to be priced around $40,000.