2013 Volkswagen Golf R Cabriolet
Thu, 07 Mar 2013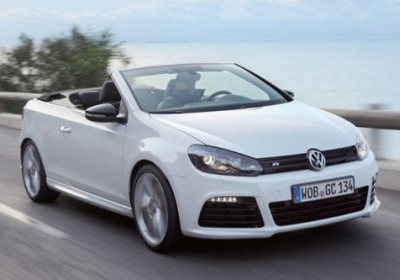 The Golf VI's Last Hurrah Is Pure Niche

This was in the heart of the ultra-chic Côte d'Azur during winter. The car to be tested was the not-for-North America 2013 Volkswagen Golf R Cabriolet. Prevailing weather conditions here this time of year are bizarrely pleasant, as though a dome of Swarovski crystal has been placed over the entire region to protect it from any real winter spoiling things. And the zippy Golf R Cabriolet is a sports car designed precisely for this area's preciously narrow winding streets, as well as for the lofty budgets of its property owners.

So then why was it snowing like we were in northern Michigan? The weather front hit from the north like a swift kick to the Jordaches. The roof was open on this Candy White Golf R Cabrio and I, as is my wont, was determined through thick or thin to keep it retracted. It had been raining and sometimes sleeting like the End of Days, but I kept the lid cracked because the 261-horsepower cabrio – the most powerful convertible ever built by Volkswagen – was snipping along nicely as the bad weather blew over my head and wetted only the rear headrests.

Then, as also invariably happens here, the twisty road went single-file behind a massive Tonka truck carrying crushed, heavy stuff. This is not a great circumstance for a cabrio, especially in such weather. In eleven seconds the multi-layer cloth top was in place, a move you can make while traveling at speeds up to 18 miles per hour. Then all was cozy and warmish in this completely opted-out Golf R Cabriolet interior with its heated sport seats, full-on leather everywhere and cushy R-logo'd carpets.

The rain and sleet switched to perfect, clumpy, snowball-fight snow at around 800 feet up the massive coastal cliff face. Here was where the business case for this now-outgoing-generation Golf R, with a base price that would be in the realm of $37,000 in the US, starts to crumble. In short order, I was in a southern French blizzard, surrounded by scared French motorists, driving a fancy fru-fru convertible shod with optional 19-inch high-performance Dunlops (235/35 ZR rated). There was great feathering of this engine's eager 258 pound-feet of torque that stays eager even in Comfort mode, and with the gear lever of the six-speed dual-clutch in fully automatic Drive.

I swallowed my moxie and turned around. This was the right thing to do because the Golf R Cabriolet – unlike the all-wheel-drive Golf R hardtop – is front-wheel-drive only despite the higher sticker. More or less, this is a fully loaded, roofless Golf R treatment sitting atop the Euro-only Scirocco R chassis. And with the estimated 6.2 seconds it takes to get to 60 mph from a dead stop, this high-buck cabrio is nearly a full second slower than the all-wheel-drive hatchback. And there's less luggage space... to boot.

To make this business case work, one clearly has to put aside every practical thought in that sunbathed noggin and believe passionately in the cute and frivolous lifestyle provided by a cabrio that is nonetheless constructed well. Taken thusly, and with the bonus of the tautly assembled cabrio roof unit and R interior, any customer living in a sunny place – without freak snow showers – will be really very happy.


On the second day of this trip with Volkswagen, the weather stopped being life-threatening enough to resume my search for Golf R-worthy curves. Playing with the adaptive chassis, switching between Comfort, Normal and Sport modes, revealed a good platform with well-engineered brake-steer technology. That helps to minimize this front-driver's tendency to understeer through all these bends, and also helps keep the car's trajectory straight while accelerating out of corners.

I also had to accept the six-speed DSG transmission as a necessary lump of the luxo lazy life. Nothing would fit better in here, or in any Golf, than the company's tried and true six-speed manual transmission. Despite craving it, my wish would never come true. The DSGs are far better units than the Mercedes-Benz 7G family, for instance, but to really squeeze this powertrain's juices, a manual is needed.

This 2.0-liter TSI four-cylinder engine is one of the finest drivetrains ever placed in a car. It's just plain always at the ready, while being smooth about it and convincingly quick. Choosing between this setup and, say, the turbocharged 1.6-liter four-cylinder used in the Mini Cooper S Convertible, would be difficult since both are amazingly satisfying drives, and they both seem unduly tortured when coupled to their respective automatic gearboxes.

While, on the one hand, the Golf R Cabriolet's aggressive optional 19-inch wheel/tire set is probably overkill, the team developing this last farewell model for the Golf VI sadly decided to tone down the exhaust note versus the Golf R hatchback (booo, hisss). Now it just sounds pretty instead of pretty gnarly. Note also that the twin exhausts exit the rear scuttle at either corner and are not bunched together in the center as on the hotter hatch. They still look good, though.

To summarize, Volkswagen has issued a swan-song in this fully loaded Golf R Cabriolet trim with every significant option in the book aboard. The car is resting on the good but old PQ35 architecture, not the new and better MQB platform of the new Golf MkVII, Audi A3 et al., and is front-wheel-drive only instead of all-wheel-drive like the three-door Golf R. And it costs a few suitcases extra worth of cash. It's also a really odd duck in that it's being added to the lineup in Europe after the all-new Golf VII has already gone on sale.

Honestly, though, VW can do this with the Golf in Europe since the Golf VI is the most successful premium hatchback by far in Europe, even in the model's final year of production. At profit margins like this, what a luxury.


Vital Stats
Engine:

2.0L Turbo I4

Power:

261 HP / 258 LB-FT

Transmission:

6-Speed DSG Auto

0-60 Time:

6.2 Seconds (est.)

Drivetrain:

Front-Wheel Drive

Curb Weight:

3,615 LBS

Seating:

2+3

MPG:

21 City / 26 HWY

Base Price:

$36,500 (est.)
---
By Matt Davis
---
See also: Volkswagen Golf Variant Concept R-Line puts the sport in SportWagen, Volkswagen Cross Up! aimed at rugged lifestyle folks, complete with plastic cladding, Volkswagen E-Co-Motion Concept brings electric mobility to the commercial set.