2013 Porsche 911 Carrera 4S
Fri, 19 Jul 2013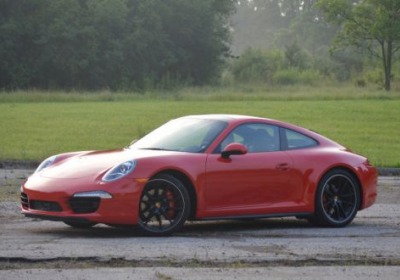 I don't care who you are; when a new Porsche 911 rolls up in your driveway, that's a pretty good day. This was my very first experience with Porsche's 991 911, and after having spent time with just about every tune and trim of the last car, I was hotly anticipating comparing and contrasting.

Somehow (I don't remember sending out any cash-filled, unmarked envelopes) I'd scored a week in the 911 Carrera 4S over a long holiday weekend, too. That meant that I'd get to A) log a ton of miles in one of the best cars in the world, B) get to show-off the Porsche to family and friends and C) tempt cops in three states to pull me over. Good thing I've got the Autoblog traffic lawyer on speed dial...


Driving Notes
I've never been one to find every-single 911 ever completely attractive – I find the 996 Cabriolets are a particularly bad representation of the legend's style – but I think the 991 generation is sexy as hell. When my test car showed up in Guards Red over black wheels, I was smitten right away. Silver or black might be safer choices with this body shape, but I can't help but think the profile of the car – sleeker than ever now – is nearly perfect. With that said, erecting the retractable rear spoiler completely ruins the body line, even if it helps keep the car pinned to the Earth at triple digit speeds.
The longer wheelbase of the 991 Carrera does set the car up as a better all-around driver and grand touring car than its 996 predecessor. On the negative side, this means that this 911 doesn't feel quite as quick to turn in and rotate on a dime. Also, slightly more grown-up chassis and suspension tuning mean that I get less of a sense of overall road feedback, too. The positive side of that trade-off is a greater level of high-speed stability, with what remains an ultra-smooth, ultra-confident driving experience on the best of roads. And, while the electric power steering system's feel might not be quite as good as it is in the last-gen 911 or the current Boxster and Cayman, it's still light years ahead of many other sports cars.
I put more than 700 miles on this Porsche over the long 4th of July weekend, with a trip to Chicago from Ann Arbor, including plenty of backroads along the way. It's not particularly sexy to say so, but the Carrera 4S is as just about as practical as anything in the "near-supercar" category is likely to get. Seats for the two passengers up front are comfortable and supportive, with plenty of head, elbow, and leg room for a car this size. Visibility is actually pretty decent, too, considering the silhouette of the machine. I was shocked to see highway fuel economy over the EPA estimated rating of 26 miles per gallon, especially considering I was doing a pretty steady 80 miles per hour most of the time I was on the interstate. And, it's a story you've heard before, but there's more than enough luggage space for two people as long as both occupants can get along with two standard-size rollerboard suitcases.
Of the roughly $40,000 worth of options on my 911 4S (stickering at $145,305 over a base of $105,630), perhaps the best value was the $360 rear windshield wiper. (In fact, in terms of German-car options sheets, that's downright thievery.) Every car should have a rear wiper – I'll now be saddened every time I see a 911 without one, knowing the owner was just a couple hundred bucks away from all-weather rear visibility.
There aren't too many cars in the world that are this fast and this grippy. I had to resort to flooring the throttle, with a whole handful of lock on a wet road to kick the heavy tail out with any conviction. The all-wheel-drive system is impressive, to be sure. And, considering the output figures of 400 horsepower and 325 pound-feet of torque aren't all that impressive by modern sports car standards, this Carrera 4S still feels astonishingly quick from point to point. Wide open throttle – in Sport mode with the exhaust opened all the way up – sounds about as close to perfect as it gets, too. If you have the chance, drive this car.
Vital Stats
Engine:

3.8L Flat-6

Power:

400 HP / 325 LB-FT

Transmission:

7-Speed DCT

0-60 Time:

3.9 Seconds

Top Speed:

184 MPH

Drivetrain:

Rear-Wheel Drive

Curb Weight:

3,230 LBS

Seating:

2+2

Cargo:

4.41 CU-FT

MPG:

19 City / 26 HWY

Base Price:

$105,630

As-Tested Price:

$145,305
---
By Seyth Miersma
---
See also: 2014 Porsche 911 Turbo Cabriolet spotted testing in the nude, Seinfeld takes Seth Meyers out in the perfect Porsche, 2013 Goodwood Festival of Speed statue unveiled.