2013 Jeep Wrangler Moab Edition
Wed, 11 Dec 2013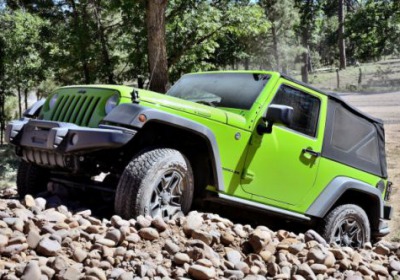 There will forever be a soft spot in my heart for the Jeep Wrangler. The last one I owned was red, and, as a 1990 model, had the square headlights derided by Jeep enthusiasts who grew up on the Civilian Jeeps that descended from their General Purpose military ancestors. As a teenager, I couldn't have cared less what shape its headlights happened to be – to me, a Jeep Wrangler represented freedom; a carefree do-it-all machine equally at home with the top stowed away in the summer or with the heater on full blast in the snowy clutches of Old Man Winter. In Dr. Seuss parlance, my square-headlighted Sneetch was just as worthy as any round-headlighted Sneetch.

All that said, I'll be the first person to advise against buying a Jeep Wrangler of any sort for owners who don't plan to use it as its makers intend. There's no good reason to punish yourself with a stiff and springy ride, a loud and somewhat drafty (though generally water-resistant) interior or the poor fuel economy expected of a block-shaped vehicle if you don't enjoy its other, more exciting benefits.


Of course, Jeep has done its darndest over the years to make the Wrangler as civilized as possible while keeping it as capable as federal law will allow. The 2013 Jeep Wrangler Moab edition is one of Jeep's latest attempts to attract attention from the upper reaches of the active lifestyle set, and I spent a week with one to see what makes the Moab special.

Driving Notes
While the stylized hood that comes as part of the Moab package doesn't have any actual effect on the vehicle's capabilities, it certainly looks good. In fact, it's such a cool design that it might be worth choosing a Moab over the Sahara model that it's based on for truly style-conscious buyers.
Similarly, the new 17-inch Rubicon alloy wheels look great on the Moab. Plus, their black finish complements all of the other black trim on the Moab, which includes the door handles, side mirrors, wheel flares and running boards.
Fitted to those wheels are Goodyear Silent Armor off-road tires with Kevlar reinforcement, measuring in at 245/75R17 at all four corners. These treads have a deep, blocky pattern that does a good job of digging in the dirt... or hauling you and your Wrangler up a massive pile of rocks. They proved much quieter on the road than I expected, too.
While there's simply no comparison to be made between the current Wrangler's soft top versus the medieval torture device that was the factory top in 1990, I'd still opt to pay an extra thousand dollars for the three-piece hardtop. The various zips, sliding wedges and ties that hold the Wrangler's roof to its folding apparatus remain a pain in the butt to fiddle with when all you want to do is hit the road and bask in the sun.
Included in the Moab package is an anti-spin rear differential, and I'd certainly recommend the optional electronic locking unit for serious Jeeper Creepers.
New bumpers front and rear featuring integrated tow hooks look pretty cool, and they'd look even better with a proper winch mounted front and center in the slot that Jeep has kindly made available.
While many Jeep owners bemoan the death of the 4.0-liter High Output inline six-cylinder engine, the reality is that the 3.6L Pentastar is a much more refined and powerful engine. I would, of course, choose the standard six-speed manual transmission, but this test vehicle was fitted with the optional five-speed automatic unit. It shifted through the gears with nary a complaint, but it's a few cogs short of true satisfaction.
If you want to be noticed, look no further than a Wrangler painted in the hue you see above, known to Jeep buyers as Gecko. If you'd rather be a bit more chameleon, consider black or white and avoid the similarly bright Rock Lobster, Dozer or Crush paint.
With a base price of $22,395, the Jeep Wrangler is one of the cheapest ways to enjoy open-top motoring in the United States in 2013, at least if you're buying new. Wrangler pricing jumps quickly as you pile on options, though. A 2013 Wrangler Moab lists at $33,095 in two-door guise, and a four-door Unlimited starts at $36,595. A fully loaded Moab can crest $40k.
As I said in the introduction, there's no reason to drive a Wrangler if you're not going to use it. That applies even more so when you step up the ladder to something like the Moab, which costs more because it can do more and go farther. And if that's your goal, there's no better way to do get to where other people can't than in a Jeep Wrangler.
Vital Stats
Engine:

3.6L V6

Power:

285 HP / 260 LB-FT

Transmission:

5-Speed Auto

Drivetrain:

4x4

Curb Weight:

3,976 LBS

Seating:

2+3

Cargo:

12.8 / 55 CU-FT

MPG:

17 City / 21 HWY

Base Price:

$33,095

As-Tested Price:

$41,325
---
By Jeremy Korzeniewski
---
See also: 2014 North American Car and Truck/Utility of the Year finalists announced [w/poll], Jeep Wrangler Willys Wheeler wants mountains, not a stage, Toyota, Lexus dominate KBB's Best Resale Value Awards.