2013 Dodge Durango R/T
Tue, 19 Feb 2013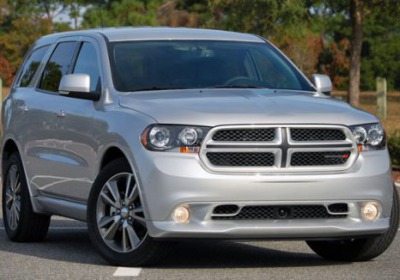 Not too long ago, Chevrolet got itself into some trouble by throwing the SS badge on just about everything it produced, so I've always been a little hesitant about the seemingly excessive use of the R/T nameplate on Dodge vehicles. For the 2013 model year, every model in Dodge's lineup has an R/T trim level from Dart all the way up to the Durango. Although the R/T name used to signified models made for road and track, I doubt anyone would be delusional enough to assume the Durango – and some of the other models wearing this badge – are suited for any sort of track duty.

Still, when this 2013 Dodge Durango R/T rolled up for me to drive for the week, I couldn't help but take in its big, mean and imposing stance. Sure, if I had my choice of buying any of the Dodge R/T products, the Charger and Challenger would be my top picks for sure, but it's easy to say that the Durango would be a close third – far above the R/T versions of the Avenger, Journey and Grand Caravan.


Driving Notes
Not that the current Durango was a bad-looking SUV to begin with, but the R/T package gives it more aggressive styling thanks to a monochromatic look. With the removal of just about all the chrome that comes on a Durango, this tester even looked good in what would normally be a boring shade of silver thanks to the body-colored front fascia, smoked headlights, 20-inch wheels and the sporty-looking rear fascia with dual exhaust outlets.
The styling might be there to back up the badge, but there is no extra power under the hood of the R/T. In possibly one of the best moves Dodge made with this particular model, the only engine offered is the 5.7-liter Hemi V8. The 360-horsepower, 390 pound-feet of torque engine feels adequate perfectly for this 5,331-pound utility. This is the only model of the Durango lineup that comes standard with the six-speed automatic transmission, too.
Fuel economy is about what you'd expect from a V8-powered SUV weighing as much as the Durango does, with EPA estimates of 13 miles per gallon in the city and 20 mpg on the highway. During my week with the R/T, this tester returned 15.5 mpg.
The Hemi is equipped with cylinder deactivation, which feels clunky at times when it switches from V8 to V4 power, with an ever-so-slight delay when the cylinders reengage once again. The only bypass for the system is just to be sure that you're right foot stays planted whenever possible.
Chrysler says the Durango R/T comes with a sport suspension, but aside from the bigger standard wheels, I felt no difference between this and any other Durango I've driven in the past. If you're really looking for a sporty, family-sized (three-row) SUV, you're probably going to want to check out the new Explorer Sport.
The best part of the Durango R/T might be its exhaust system. Yes, the dual pipes poking through the rear fascia give it an aftermarket look, but it's the exhaust note that makes the R/T thrilling. Dodge gave the Durango R/T unique mufflers, pipes and resonators for a deep, throaty note, which makes the package a little more distinctive.
Similar to the exterior styling, the R/T's interior has a sportier look and feel with plenty of red accents on the standard black leather throughout the cabin. This particular model came with the center-row captain seats limiting the overall seating capacity to just six, but it made accessing the third-row seat much easier. Not surprisingly, as the innovator of third-row seating for non-fullsize SUVs, the Durango's rearmost accommodations are spacious enough for two adults and can also fold completely flat quickly and easily.
The R/T trim level sits just under the Citadel as the top Durango model, and as such, it isn't a cheap SUV. Starting at $35,995 in base form, this all-wheel-drive 2013 Durango R/T was optioned up quite impressively, bringing with it a hefty as-tested price of $45,360.
What you get for that high price, though, is plenty of optional goodies including leather-wrapped door panels, heated steering wheel, heated and ventilated front seats, adaptive cruise control and Chrysler's Uconnect navigation system. This test vehicle may very well have been completely fully loaded, and while it'd be a hard financial pill to swallow, it's certainly easy enough to option rivals to the same level.
Yes, the third-gen Durango is no longer body on frame, but proving that it hasn't completely lost touch with its SUV roots, the Durango is still rear-wheel drive in base form, even though it's now competing against a newer breed of three-row utilities like the Chevy Traverse, Nissan Pathfinder and the Ford Explorer. Unlike its corporate cousin, the Jeep Grand Cherokee, the Durango is not offered with a multi-mode off-road system, but it did handle itself quite well while driving on the loose sand of a northeast Florida beach.
Vital Stats
Engine:

5.7L V8

Power:

360 HP / 390 LB-FT

Transmission:

6-Speed Auto

Drivetrain:

All-Wheel Drive

Curb Weight:

5,331 LBS

Towing:

7,200 LBS

Seating:

2+2+2

Cargo:

17.2 / 84.5 CU-FT

MPG:

13 City / 20 HWY

MSRP:

$45,360 (as tested)
---
By Jeffrey N. Ross
---
See also: 2003-04 Dodge Viper recalled for sudden airbag deployment, Chrysler recalling 278,222 trucks and SUVs over bad rear axles, 2013 Dodge Dart gets all Moparized.