2013 Dodge Dart GT
Mon, 16 Dec 2013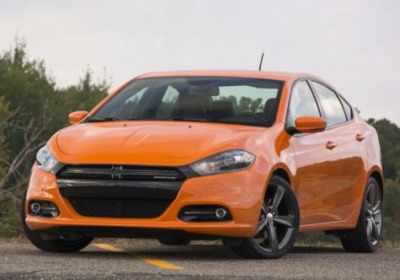 My younger brother bought a Dodge Dart earlier this summer. It's a basic SXT, in Maximum Steel Metallic, with the 2.0-liter engine, a six-speed automatic transmission and not a whole lot else. Unfortunately, at the time, the Dart was one of the few cars in the compact class I'd never driven. I didn't know a lot about it, and therefore, didn't have a lot to say when he bought it. I think the words "based on an Alfa," popped out when I first saw it.

As it turns out, he's grown quite fond of the dark gray sedan, so it was with some degree of enthusiasm that I paid him a visit in this bright-orange Dart GT. I was excited to see what it was about the Dart that he enjoyed so much, despite my tester featuring a different engine, transmission and a lot more tech. After a week with the car, though, I must say: I don't quite see what all the fuss is about.


Driving Notes
The GT receives the most powerful engine in the Dart line – a 2.4-liter four-cylinder complete with 184 horsepower and 171 pound-feet of torque. Mated to the buyer's choice of a six-speed manual or a six-speed automatic, it's easy to imagine that the Dart's on-paper performance is more than adequate.
That said, this is a thrashy, buzzy and generally unlovable engine. Peak torque arrives at 4,800 rpm, or about 1,700 rpm south of redline, meaning it needs to be pushed to really deliver its grunt. This wouldn't be a problem were it not for the largely unpleasant noises coming from under the hood and out the back. It sounds like Dodge attempted to engineer a sporty soundtrack for the 2.4, but the resulting audio comes across as too rough.
Despite having to push the engine harder than I'd like, fuel economy was right around the 27-mile-per-gallon combined rating promised on the window sticker. The 33-mpg highway rating seems rather lofty, though, as the majority of my drive time was on the highway. Of course, if fuel economy is really your concern, you'll be better served by either the base 2.0-liter or 1.4-liter turbocharged four.
The other issue with the Dart's powertrain was my tester's six-speed manual. For starters, the shift knob's size sits somewhere between a tennis ball and a softball, meaning that even for someone with large hands like me, it's difficult to get the right kind of grip on it. Follow that up with overly long, almost Jeep-like throws for the shifter, and a clutch with too much travel and a vague, difficult-to-find catch point, and the 2.4/6MT combo is shaping up to be one we'd avoid.
The ride/handling of this sportiest Dart are somewhat unimpressive with regard to the general compact class. If you happen to value handling and feedback, we can't help but think you'd be better served by the Mazda3, as the Dodge feels rather disconnected both in terms of the chassis and steering. It isn't uncomfortable, though. The ride feels reasonably composed over rough sections of road and doesn't porpoise about if things do get bumpy.
If you're just looking for the class-exclusive or class-leading features, the Dart GT is a solid choice. We mentioned a few of them already, but they bear mentioning again: Chrysler's UConnect system is really one of the best touchscreen setup in the game (if not the best), both in terms of responsiveness and sheer size and clarity. The 8.4-inch display is, simply put, a must-have if you're considering not just the Dart, but any Chrysler Group product. The other options, like a heated steering wheel and the reconfigurable dash are just plain cool at this price point. That TFT display in the instrument cluster is a ridiculously pretty way of displaying normally boring stuff like trip and fuel economy data.
Ignore the optional goodies, though, and the cabin is merely par for the course. It's not as well done as a Ford Focus or Hyundai Elantra, but aside from some of the harder, scratchier plastics, it's not a terrible place to spend time. The leather on the seats is rather cheap feeling, and I'm wondering how well it will age (to be fair, this is true of a lot of leathers used in the compact segment). Backseat space is solid, so long as Shaq isn't parked in the driver's seat.
Pricing for the Dart GT starts at a reasonable $20,995 and will automatically net owners a set of stylish 18-inch, five-spoke wheels, the more potent engine, push-button start, a power driver's seat, the 8.4-inch display (sans navigation), heated seats and steering wheel, the reconfigurable dash, sport suspension and satellite radio. From there, the options list is relatively slim. Owners can add navigation to their touchscreen display for a very reasonable $495, swap the silver wheels for hyper black wheels for an extra $395, or fit a $995 Sun/Sound package that adds a nine-speaker Alpine stereo and a sunroof. All in, my car totaled a tidy $23,875, including $995 for destination.
There is much to recommend about the Dart, particularly if you're clamoring for the latest batch of automotive tech. Its huge central display and gorgeous TFT screen in the instrument cluster are markedly better than what's in the rest of the class, making the Dart the obvious choice for the tech savvy. Those who prioritize ride and handling, however, are likely to be better served elsewhere. The Dart's middling driving character is overshadowed by newer enthusiastic offerings like the Mazda3, while those who value a bit more comfort and refinement will be better served with a Ford Focus or Chevrolet Cruze.
Vital Stats
Engine:

2.4L I4

Power:

184 HP / 177 LB-FT

Transmission:

6-Speed Manual

Drivetrain:

Front-Wheel Drive

Curb Weight:

3297 LBS

Seating:

2+3

Cargo:

13.1 CU FT

MPG:

23 City / 33 HWY

Base Price:

$20,995

As-Tested Price:

$23,875
---
By Brandon Turkus
---
See also: Chrysler recalls small number of 2013-2014 cars and trucks over engine debris, Dodge Dart Mopar '13 special edition recalled over airbag woes, eBay Find of the Day: 1994 Dodge Viper RT/10 with 504 miles.