2013 Buick Verano Turbo
Thu, 03 Jan 2013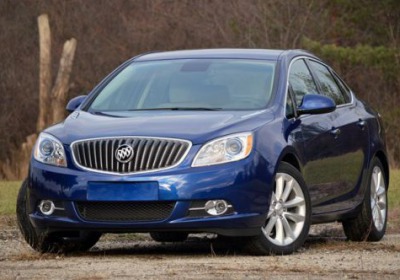 Not Luxury. Not Sport. Not Buick. Not Bad.

Those of you who still think of the Buick Verano as some sort of callously badge-engineered, gussied up version of the Chevrolet Cruze ("Why would anyone spend that much money on Buick's Cruze?" you may have been heard to mutter) have got the wrong idea. Entirely. Even in its most modest form, the Verano turns out to be a sedan that is feature-rich, insulated from wind and road noise in proper luxury car fashion, pretty good to drive and not bad to look at in the new school of high-nosed pedestrian-impact-regulated fashion. In a less modest form then, one that attaches the word "Turbo" to the moniker and plops a force-fed 2.0-liter four-cylinder under the hood, the Verano is downright interesting.

Of course, "interesting" is rarely a descriptor that fills one with lust – and so it goes with this example. There are two competing forces within this near-premium subcompact sedan, and the balance struck between them must resonate with any potential customer before the Verano Turbo can become a serious purchase consideration.

The first, and arguably most potent of these forces, is the overarching "new Buick" tuning and vibe that percolates through the Verano. The interior is clad in soft but not particularly rich leather; the seats are quite comfortable but a long way from sporting or very supportive in dynamic situations; the car is whisper quiet pretty much all of the time, even under full-throttle acceleration; and the sound system offers clear and bright audio, without an overabundance of power or depth. Everywhere we look and feel in the Verano, we're met by materials and workmanship that offer a clear cut above the average, without ever being truly exceptional.


Just a few degrees of throttle has the Verano Turbo doing its best Mazdaspeed3 impression.
The other force evident in the Turbo is headlined by the eponymous 2.0T engine, and to a lesser extent, in the case of our test car, the six-speed manual gearbox that manages its power. In the accessible, forceful thrust of this 250-horsepower, 260-pound-feet four-cylinder engine, we feel something that is pretty un-Buick-like – at least in terms of existing brand stereotypes. The company lists a 0-60 miles per hour time of 6.2 seconds, and we'd believe it if someone told us that a few tenths quicker than that is easily possible. And the run up to 60 mph is hardly the point with this mill. The real fun is had by way of its broad torque curve, at mid-range speeds (say, 50-70 mph), where just a few degrees of throttle has the Verano Turbo doing its best Mazdaspeed3 impression. Yes, that means it's pretty quick.

The aforementioned 6MT may not be a standout in the increasingly small world of do-it-yourself transmissions, but it's pretty slick. The short throws and positive, light action of the gear lever are bolstered by a clutch that is progressive with an easy-to-find take-up point. There's a fair amount of slop in the wide shift gates, but not so much that the overall shifting experience is spoiled for us. The engine and trans work well together, delivering a feeling of accessible enthusiasm with all of the sharp edges sanded down.


Buick hasn't really touched the underpinnings of the Verano for this go-fast iteration.
That elusive third pedal in this manual-trans sedan is also, we should say, the best of the trio in terms of feel. We were initially put off by the spongy feel of the brake pedal in slow-speed stopping situations, and grew to be legitimately annoyed by it when we starting hauling the Buick down from higher speeds. Outright stopping power wasn't the issue, the standard issue 16-inch units front/rear got the job done, but the rate at which we felt the initial bite of the brakes was disappointing. Similarly, the throttle response at low-revs was pretty lackluster for an engine this torquey – due in no small part to the long-travel of the unsporting gas pedal.

The car certainly benefits from having a well-tuned basic chassis to start with, especially because Buick hasn't really touched the underpinnings of the Verano for this go-fast iteration. The Turbo doesn't offer the same torque-steer reducing HiPer Struts of its big brother, the Regal GS, but its independently sprung MacPherson units still manage to keep the nose headed quickly in the requested direction. And, critically, they offer a smoothly modulated ride over bumps, swales and potholes. The Verano, as ever, feels particularly well balanced for a front-wheel-drive vehicle when moving from corner to corner, though the Turbo certainly does nothing to break new ground in the sport handling department.



The Verano Turbo could be one hell of a Chevy Cruze SS.
By now, we'd be surprised if you weren't catching on to the head-scratching ambivalence that this small, quick Buick generated in us. At heart, it's a perfectly nice car in almost every area, fitted with a potent engine/transmission combination for this class, but without any trace of the involving character that would engender passion in someone who cares about driving for pleasure.

Part of the problem, we can't help thinking, is that, pushed in the "sport" direction, the Verano Turbo could be one hell of a Chevy Cruze SS. Stiffen the springs, quicken the steering, bolt on a throatier exhaust and tweak the throttle mapping a bit (don't forget bigger brakes), and you've got a hot-hatch-like sedan that would give every GTI, GLI, Speed3 and Focus ST a real scare if you also brought it down to Chevy-scale pricing.

Pushed towards the true luxury buyer, the Verano might shine brighter as well. We've mentioned that we do like the car's overall cabin design and suite of technology, but the truth is that a few more dollars spent on metal, leather and real wood (if you must) in the cabin would make it more of a credible premium space. A slightly glitzier center stack in place of the dull, button-heavy unit there now could potentially net Audi comparisons. Don't misunderstand – the Verano Turbo's insides offer quite a good luxury-like value, but that's a different thing than being luxurious.


It easily outpaces the few other quasi-luxury players in the country.
Even as it stands now, though, the Turbo is a dominating competitor for cars that make very little noise in the US market like the Acura ILX 2.4 and the Audi A3 2.0T. In terms of both performance and specification, the Buick easily outpaces the few other quasi-luxury players in the country. In fact, the competitors that feel most closely aligned with the Verano Turbo in terms of size and performance are entry-lux stalwarts like the BMW 328i and the Audi A4 2.0T.

But the Buick brand is still so poorly defined and badly regarded by young, hip premium car buyers that we might be considered optimistic if we said the Verano is a "few generations" away from having the reputational chops to dice with those traditional luxury marques. And, as Acura has learned over the years, front-drive luxury cars are always going to be stigmatized as being somewhat second-rate compared to rear-drive and all-wheel-drive competitors.

The Verano Turbo, like the Regal GS introduced before it, will likely be pointed to as an example of Buick turning the corner, if, years from now, General Motors' most ill-understood brand can start to build a reputation for itself again amongst youngish American shoppers. Dual-natured though it may be, the high-po Verano is, quite honestly, entertaining to drive, and priced and spec'd very well against a pretty weak set of direct competitors. But that future is both uncertain and likely to be pretty far off.

As a proposition for buyers in the here and now, then, the confusing messages abound: Buick's core values have never really included having cars that are small, tech-laden, quick and fashion-forward – at least not all of those, all at once. (To both members of the Buick Reatta Fan Club, you have our sincerest apologies.) A semi-sporting, near-luxury subcompact Buick sedan (with optional manual transmission, don't forget) is anything but run of the mill, but it may not be the car that turns buyers out in droves, either.


Vital Stats
Engine:

Turbo 2.0L I4

Power:

250 HP / 260 LB-FT

Transmission:

6-Speed Manual

0-60 Time:

6.2 Seconds

Drivetrain:

Front-Wheel-Drive

Curb Weight:

3,300 LBS

Seating:

2+3

Cargo:

14.0 CU-FT

MPG:

21 City / 31 HWY

MSRP:

$30,785 (as tested)
---
By Seyth Miersma
---
See also: Facelifted Buick LaCrosse caught in China, Buick Verano to go turbo-only for 2014?, 2013 Buick Encore.