2008-2009 Pontiac G8 recalled over airbag concern
Mon, 07 Nov 2011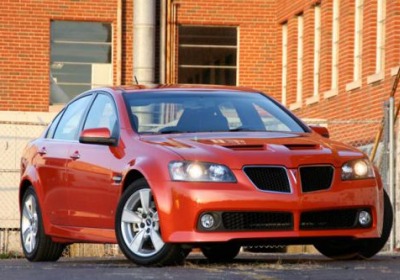 General Motors is recalling around 38,000 Pontiac G8 sedans from its 2008 and 2009 model years. The National Highway Traffic Safety Administration reports that the cars may have a passenger-side airbag flaw that might prevent proper deployment in certain scenarios.

According to NHTSA, the airbag might not adequately protect a fifth percentile woman – that is, a woman around four-foot, 11-inches weighing 108 pounds. The New York Times indicates that the anomaly was found during a crash test conducted by GM's Australian branch, Holden, which was testing the G8's twin (read: Commodore) for head injuries. According to that report, the test in question is specifically tailored to simulate injuries to females, so the results do not apply to men or children.

The issue has been blamed on a seat position sensor that governs airbag deployment rates. NHTSA indicates that when the front passenger seat is moved all the way forward, the faulty sensor may inappropriately trigger a 30-millisecond delay between airbag stages, potentially leading to greater injuries.

With the Pontiac division closed, other GM dealers will reprogram the sensor module of models covered under the recall at no cost to vehicle owners. GM says that no injuries have been reported as a result of this issue. For more information on the recall, click past the jump for the official notice.

Report Date :
November 7, 2011 at 11:35 AM
NHTSA Campaign ID number :
11V534000

Vehicle Make / Model:

Model Year(s):
PONTIAC / G8

2008-2009

Manufacturer: GENERAL MOTORS LLC
Mfr's Report Date: NOV 03, 2011
NHTSA CAMPAIGN ID Number: 11V534000
NHTSA Action Number: N/A
Component: AIR BAGS:FRONTAL:SENSOR/CONTROL MODULE
Potential Number of Units Affected: 38,444

Summary:
GENERAL MOTORS (GM) IS RECALLING CERTAIN MODEL YEAR 2008-2009 PONTIAC G8 VEHICLES MANUFACTURED FROM NOVEMBER 2, 2007 THROUGH JANUARY 22, 2009. A 5TH PERCENTILE FEMALE ANTHROPOMORPHIC TEST DEVICE (ATD) IN A 30 MPH FRONTAL BARRIER TEST EXCEEDED THE HEAD INJURY CRITERIA (HIC) REQUIREMENTS OF THE STANDARD. WITH THE FRONT PASSENGER SEAT POSITIONED FULL FORWARD, THE SEAT POSITION SENSOR WILL CAUSE A 30 MILLISECONDS DEPLOYMENT DELAY BETWEEN THE FIRST AND SECOND STAGES OF THE DUAL-STAGE FRONTAL PASSENGER AIR BAG.

Consequence:
IN THE EVENT OF A CRASH, THIS DELAY MAY RESULT IN INCREASED HEAD INJURY TO CERTAIN FRONT SEAT OCCUPANTS.

Remedy:
GM DEALERS WILL REPROGRAM THE SENSING AND DIAGNOSTIC MODULE FREE OF CHARGE. THE MANUFACTURER HAS NOT YET PROVIDED AN OWNER NOTIFICATION SCHEDULE. OWNERS MAY CONTACT PONTIAC AT 1-800-620-7668.

Notes:
OWNERS MAY ALSO CONTACT THE NATIONAL HIGHWAY TRAFFIC SAFETY ADMINISTRATION'S VEHICLE SAFETY HOTLINE AT 1-888-327-4236 (TTY 1-800-424-9153), OR GO TO HTTP://WWW.SAFERCAR.GOV .
---
By Chris Paukert
---
See also: GM doing fine at retaining Pontiac owners, General Lee takes on Bandit T/A in classic Hollywood car showdown [w/poll], 1939 Pontiac Ghost Car commands $308,000 at auction.