'Faster. Farther.' dives into the history of Porsche racing tech
Wed, 07 Aug 2013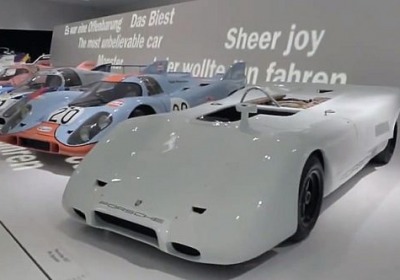 No doubt, Porsche has produced some of the best endurance racecars around, such as the turbocharged, slant-nose 935 of the 1970s and the ground-effects-enhanced 956 and 962 of the 1980s. But the company's most famous racecar, its first overall winner at the 24 Hours of Le Mans, was the 917.

The 917 embodied many of Porsche's technological achievements up to that point, such as the company's first 12- and 16-cylinder engines (the flat-16 was never used in competition), fiberglass bodies that implemented early aerodynamic practices and the use of new, exotic materials, such as magnesium and titanium.


The racecar was commissioned by the head of Porsche Motorsports, Ferdinand Piëch, to win overall at the 24 Hours of Le Mans in 1970, after he realized a loophole in the rules that allowed cars to compete with engines up to five liters in the Sport category if they were also production models. Piëch saw opportunity: the top prototype class was restricted to three liters; the production minimum to compete in Sport was 25 cars. And so, with much effort, Porsche assembled 25 "production" 4.5-liter 917s and had them parked in a neat line for the race inspectors to verify their legitimacy. It didn't take long before people realized the new Porsches were much faster than the prototype racers, with a top speed approaching 250 miles per hour.

Porsche is putting two 917s on display in the North Carolina Museum of Art starting on Oct. 12, and the company produced a video, which you can watch below, to hype up the exhibit. Enjoy!



---
By Damon Lowney
---
See also: Autoblog Podcast #344, Porsche celebrates 5M Facebook fans with crowdsourced one-off 911, Submit your questions for Autoblog Podcast #344 LIVE!.