eBay Find of the Day: 1985 Saab Turbo Limo is the ultimate high school reunion ride
Wed, 18 Jul 2012 18:30:00 EST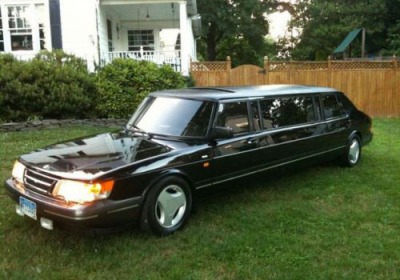 Yes, we've seen this 1985 Saab 900 Turbo limo for sale before. But somehow, this time is just seems more right. And we've got more pictures this go-around.

With the Saab brand now dormant and little hope for a true renaissance, save for one that comes in name only, Saab's future must lie in the celebration of great cars of its past. And what better way to celebrate the wonderful Saab 900 than to chop it in half and turn it into a freaking limousine?

Claimed to have been built by a Denver area Saab specialist, this five-speed manual 900 Turbo is listed with a Buy It Now of $8,500. It's actually surprisingly well turned-out, too, with a pretty decent interior that sticks to real Saab seats, avoiding the crushed-velvet or button-festooned lounge chair look. While this seems rather spendy for a well-used limousine, good luck finding another one like it. And besides, that's a lot less than the $12,500 asking price from back in 2010.

Just promise us one thing: If you do buy it and your drive home from Baltimore passes through the Midwest, drop us a line, because we'd love to go for a ride in the back.
---
By Jeff Sabatini
---
See also: New owners still struggling to secure rights to use Saab name, Last 900 Saabs heading to auction, Saab to hire 200 engineers, might build gas cars with Mahindra.