eBay Find of the Day: 1977 Jeep J20 time capsule
Tue, 08 Jan 2013 16:29:00 EST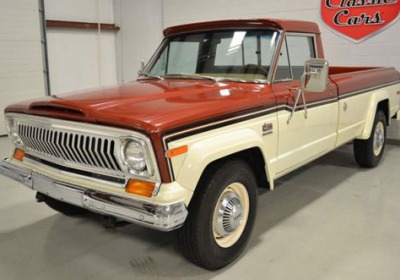 Is it just us or has eBay really become, of late, a surprising time capsule of older, barely used automobiles? We've had the 2005 Porsche Carrera GT with 83 miles, the 2004 Ferrari Enzo with 175 miles, the 1987 Shelby Lancer with 22 miles, the 1989 Shelby Dakota with 23 miles – none of those four cars ever even registered – and the 1975 Cosworth Vega with 191 miles. You can add to that list a 1977 Jeep J20 – the kind of Jeep that enthusiasts point to when they beg the brand to make another pickup truck.

Listed on eBay by Masterpiece Classic Cars in Whiteland, Indiana, the Brandywine and Alpine White truck has used its 360-cubic-inch V8 paired with a three-speed automatic to go just 3,940 documented miles. Not surprisingly, it's listed in excellent condition and the images appear to bear that out. The three-quarter-ton pickup comes with its original manual and pamphlets, the Quadra-Track four-wheel drive probably just as ready to tackle the terrain as it was 36 years ago. If only it came with some John Denver to play in that AM/FM/8-Track stereo...

At the time of writing it hasn't garnered a single offer or bid, probably due to the above-top-dollar Buy It Now price of $34,900. Still, since this is likely the closest you'll get to a Jeep pickup for some time, we'd recommend admiring it in the gallery of photos above.
---
By Jonathon Ramsey
---
See also: Jeep Wrangler gets the wide-track treatment, 2014 Jeep Patriot and Compass ditch CVT for six-speed auto, Toyota tops Kelley Blue Book's Resale Value Awards.