eBay Find of the Day: 1967 Pontiac GTO Monkeemobile
Sun, 29 Apr 2012 18:01:00 EST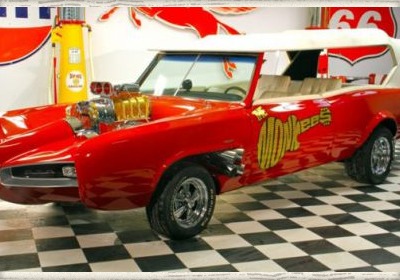 Say what you will about The Monkees, but the guys in the band had great taste in automobiles. Take the Monkeemobile, for example. Built off a 1967 Pontiac GTO Convertible, the custom featured genuinely interesting bodywork and some wild engine bolt-ons. If you're a fan of 1960s pop and yearn to relive the genre's glory days, eBay Motors may have what you need. A recreation of the 1967 Monkeemobile has showed up for auction. This particular replica was built by Dakota County Customs using an four-speed GTO, just like the original.

Built for the band's 45th anniversary and the final Monkees tour last year, this Monkeemobile is faithful down to every last detail. Unfortunately, the trumpet exhaust poking out of the front fender wells and the massive gold-flake blower are for show only. Seems fitting.

If you like what you see, this machine is up for bid in Richfield, Minnesota with two days left on the auctions. So far, bidding as whipped up to $60,000 with the reserve not met. Head over to eBay Motors to have a look.
---
By Zach Bowman
---
See also: Watch as Hot Rod goes from El Paso to LA the hard way, 2008-2009 Pontiac G8 recalled over airbag concern, GM doing fine at retaining Pontiac owners.