XCAR shows how Audi engineers let loose with A1 Quattro
Wed, 29 May 2013 19:15:00 EST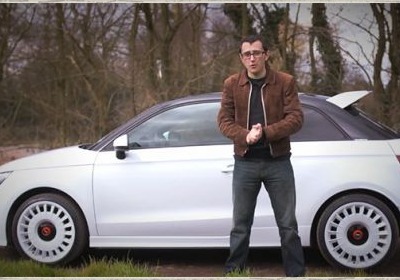 In its ultimate mortal guise, the Audi A1 Black Edition - the littlelest little guy Audi makes - costs 22,340 pounds ($33,705 US) in the UK and comes with a turbocharged 1.4-liter four-cylinder that outputs, at most, 182 horsepower and 184 pound-feet of torque. The Audi A1 Quattro - still employing the body of the littlelest little guy Audi makes - costs more than 41,020 pounds ($61,888 US) gets a turbocharged 2.0-liter four-cylinder from the Audi TTS with 252 hp and 258 lb-ft. And quattro. And 17-inch, center-locking, white wheels.

The crew at XCAR gets the A1 Quattro on video, to both question how the A1 Quattro happened and then to praise it even if they never found the answer. The hosannas come too late for anyone in the UK who was waffling about buying one, however, since all 19 meant for the 'sceptered isle are sold out. You can see what we missed out on in the video below.




---
By Jonathon Ramsey
---
See also: 2013 Audi RS5 Cabriolet, Audi A8 facelift on the way, 2014 Nissan GT-R Track Pack squares off against Audi R8 V10 Plus.