Watch two championship-winning DTM cars from BMW go head-to-head
Mon, 06 May 2013 17:02:00 EST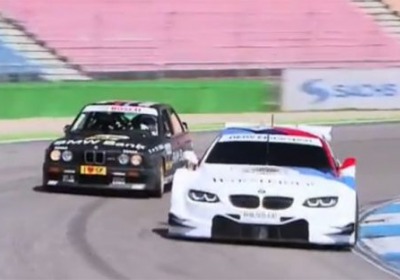 BMW recently had a little fun with two of the company's past DTM champions. Roberto Ravaglia and Bruno Spengler, winners of the 1989 and 2012 championships, respectively, both showed up at the world-famous Hockenheimring with their title-winning cars. The two swapped seats, with Ravaglia taking the helm of Spengler's BMW M3 DTM racer and Spengler sliding behind the wheel of Ravaglia's first-generation M3 racer in the classic BMW Bank livery, and headed for the track. Spengler got a 23 second head start in the first-gen M3 with Ravaglia chasing behind.

It didn't take long for the older hotshoe to sort out his new ride and close the gap. The short clip below follows the two as they make their way around the circuit, but the really interesting portion comes when the pair begin discussing what they like and don't like about each other's machines. You can check out the full video below for yourself.





---
By Zach Bowman
---
See also: BMW i3 to be priced around $40,000, BMW says current M3 sold out, no new AWD M models planned, Beverly Hills road rage incident ends with BMW driver ramming bicyclist.