Watch these Australian Ford and Holden muscle cars duke it out
Wed, 21 Aug 2013 20:29:00 EST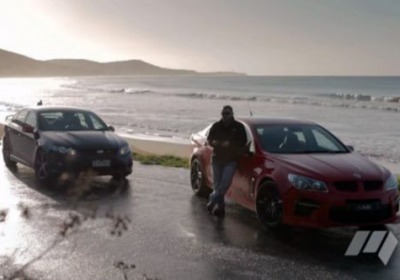 Australia's Motoring has put together a little video on two of the great performance vehicles available down under - the Holden VF Commodore HSV GTS and the Ford Falcon FPV GT R-Spec. And while both FPV and the Falcon might be on their way out, there's still plenty of time for a little head-to-head comparison between the two.

The cars aren't all that well evenly matched, though. The Ford boasts a 5.0-liter, supercharged V8, which the Aussies measure out at 449 horsepower and 420 pound-feet of torque. The HSV, though, with its Corvette-derived, 6.2-liter, supercharged V8 is just too powerful – 576 hp and 545 lb-ft of torque.

Predictably, it doesn't end too well for the Ford. As the guys from Motoring point out, the new VF Commodore is just too new and too good, with its extra power and its adaptive dampers (GM's excellent MagnaRide). Interestingly, Motoring did point out that the Holden's electric steering is better than the Ford's hydraulic steering, which is a lot like a Porsche purist saying they prefer water-cooled engines to air cooled.

The Aussie site did a full write up on the two vehicles, which we'd strongly encourage you to take a look at. It's a really solid read. You can also take a look at their video comparison, down below.



---
By Brandon Turkus
---
See also: Ford looks to space robots to improve car-to-car communications [w/video], Alan Mulally talks about why Ford's Falcon had to die, Ford's Explorer-based Police Interceptor to get 365-hp EcoBoost option.