Watch an Acura NSX prototype lap the track at Mid-Ohio
Sun, 04 Aug 2013 11:15:00 EST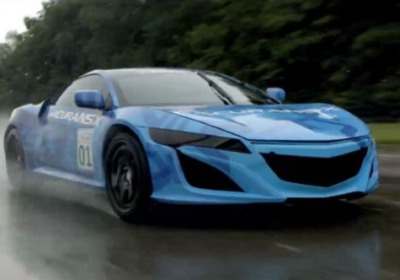 As promised, Acura trotted its NSX prototype out to the mass of waiting fans ahead of today's Honda Indy 200 IndyCar race at Mid-Ohio. The hybrid supercar took to the track for a fast lap, and Acura was kind enough to attach a score of cameras to the car in order to share the event with the rest of the world.

The blue-wrapped NSX looks pretty darn good on a race track, if we do say so ourselves, and its V6 engine, coupled with its three electric motors and lithium-ion battery pack, sounds awfully sweet at full song. The automaker is promising to release its new NSX in 2015, which is still quite a ways away, so we don't expect this exhibition lap to be the last time we see a prototype in action ahead of a production debut.

Want to see the video? Of course you do. Scroll down to see the NSX take to the track like a fish takes to water.



---
By Jeremy Korzeniewski
---
See also: Acura releases yet another NSX track teaser vid, Honda reports $1.9 billion profit in first quarter despite sales lag at home, Autoblog Podcast #343.