Watch NASCAR racer Brad Keselowski do a burnout... in a hotel conference room
Fri, 08 Mar 2013 19:15:00 EST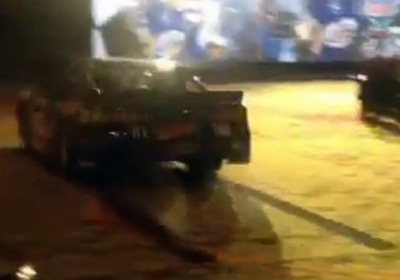 A vast majority of hotels frown upon smoking inside the building these days, but Brad Keselowski doesn't follow the rules. During his introduction at the 2013 MiilerCoors Distribution Convention, the reigning NASCAR Sprint Cup champion smoked the tires of his Miller-sponsored Ford Fusion stock car, adding a pair of thick, black stripes to the carpeting of the Marriott World Center's conference room.

This definitely isn't a high-quality video, but it's the perfect vantage point to watch Keselowski lay down some rubber and receive a well-deserved standing ovation after pulling up in front of the crowd. Check out the short-but-sweet video posted below.


---
By Jeffrey N. Ross
---
See also: 2014 Ford Transit unveiled in Chassis Cab and Cutaway versions, Ford Mustang to get four-cylinder in Europe, but not US, Ford Tourneo ready for duty in Connect, Courier and Custom flavors [w/videos].