Volvo wants this car to be the Crown Vic of global police fleets
Mon, 18 Nov 2013 09:30:00 EST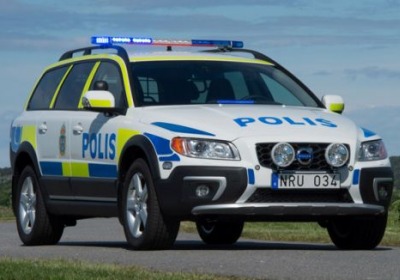 It has been years since the last Ford Crown Victoria rolled off the assembly line, but these body-on-frame sedans are still the most recognizable police cars in the US. Volvo is making a strong push in hopes that its XC70 can attain the same level of success as a global police car. As it is, Volvo is a popular choice for police cars in its home country of Sweden, but its cars are also used in police fleets in the UK, Belgium and Switzerland.

With an upgraded chassis, Volvo is looking to attract agencies from around the globe, including the rest of Europe, Asia and even the Americas. Changes over a stock 2014 XC70 include a beefier suspension setup, and the automaker has also tested the police-spec version of the jacked-up wagon in just about all conditions it could encounter in Europe – from the high speeds of the German autobahn to the low traction of Sweden's snowy, winter roads. We doubt we'll see many, if any, of these Volvos policing the streets of the US, but if we do, we're sure it will be in New England, Colorado or North Carolina.

New Volvo XC70 D5 AWD receives top marks from Swedish police
Specially developed new chassis underpins Volvo Cars ambitions in global police car market

Following the development of a special, new chassis for police cars, Volvo Cars is now actively targeting a significant increase of its sales of police cars around the globe. The qualities of the new chassis were recently underlined when the Swedish Police designated the 2014 Volvo XC70 D5 AWD as the best car in its fleet after exhaustive tests, with an overall score of nine out of ten.

"The vehicle fleet of the Swedish police is subject to among the most stringent demands in the world and the Volvo XC70 D5 AWD is the best police car we have ever offered. We see a clear opportunity to increase our sales on a number of markets, both in markets where we previously had a presence as well as in entirely new markets," says Ulf Rydne, Business Manager Commercial Vehicles at Volvo Car Special Vehicles and Accessories, where Volvo police cars are developed.
Model year 2014 Volvo XC70 D5 AWD police car (UK livery)
Currently Volvo Cars sells between 500-600 police cars every year. Most of them are sold in Sweden, where Volvo Cars has close to 90 per cent of the market, but Volvo police cars can also be found in the UK, Belgium, the Netherlands and Switzerland. "With our new model year 2014 cars with the new chassis, we have an even wider product range and we believe we can double our sales numbers in the coming years. Already now, we are in discussions with at least a dozen different police forces around the globe: seven in Europe, two in the Americas and three in Asia. And we are determined to add more to that list," says Ulf Rydne.

Volvo Cars will continue to offer fully-equipped police cars like it has done for many years. "However, with our new chassis we now also have the possibility to offer police forces a 'base' car with only a specially developed chassis," explains Ulf Rydne. "Police forces can then equip their police cars according to local demands. This approach makes our police cars attractive to a much broader target group, because it allows us to compete on price as well as on quality."

The new police car chassis has been changed in a number of aspects, including the introduction of new anti-roll bars, shock absorbers and springs. The cars are also subjected to a large number of verification drives on all types of road surface: for example, cars are taken on high-speed driving tests on the German autobahns, winter road driving in northern Sweden, as well as high-friction driving in Spain. Volvo Cars is one of few car manufacturers that have developed a special chassis for police cars.

"We have been working on the development of a new chassis for almost a year. We realised that it was necessary," says Ulf Rydne. "The weight of police cars is increasing, which requires a stable chassis, and we were approaching the limit. Police forces need a car that performs predictably and does not offer any surprises. That is why we develop our police cars in close cooperation with the Swedish police, who are involved throughout the product development phase. That way, we get first-hand insight into the demands placed on a police car," says Ulf Rydne.

Already last year the XC70 D5 AWD was voted the most popular police car among Swedish police officers, due to its comfort, safety and flexibility. But a recent test by the National Police Board in Sweden of the XC70 D5 AWD with its newly developed chassis resulted in the highest overall grade of all six car makes used by Swedish police. The Volvo XC70 D5 AWD scored ten out of ten in emergency driving and booked an overall score of nine out of ten in the test, that also covers noise, comfort, stability, elk and braking tests and evasive manoeuvres. Driveability, engine performance as well as cornering and braking stability were some of the features highlighted in the test report.

"Unlike in many other countries, the police car is seen as a workplace in Sweden, which means it has to meet very strict demands," says Ulf Rydne. "So when our car is seen as the best in the Swedish police fleet, it is no wonder that other police forces around the globe are also interested in our offering. Because it has been developed with Swedish standards in mind, the basic quality of the car is excellent."

Volvo police cars are first built on the production line in the Torslanda factory, and then equipped as police cars in an integrated production process. The process of converting a car into a police car takes around 45 hours. Production for the 2014 model year with the new chassis will commence in late November, with the first new police cars being delivered at the start of next year.
---
By Jeffrey N. Ross
---
See also: Next Polestar Volvo sounds great, whatever it is, Volvo's oldest model earns IIHS Top Safety Pick+ award [w/video], Volvo will replace C70... eventually.