Volvo S60 Polestar Concept looking Smurfy in Jay Leno's Garage
Tue, 22 Jan 2013 19:59:00 EST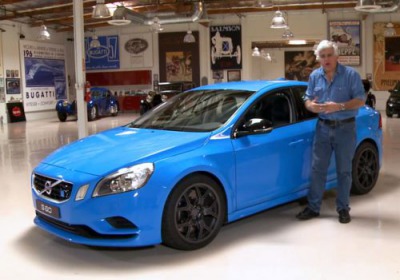 Is it just us, or has Jay Leno's Garage evolved from an intimate, off-the-cuff video series designed to show off the late-night comedian's automobile collection into something a lot more ambitious and... mainstream? This isn't a complaint, exactly, as Leno has been putting out engaging videos at an increasingly furious pace. However, we can't help but note that the subjects have largely graduated from the funnyman's steam-powered eccentricities and forgotten classics to lots of new production and concept cars, often with automaker execs in tow. It's almost as if the series is turning into an internet version of his NBC talk show, one where bigwigs swing by to show off their latest projects as part of their publicity tours, only instead of new movies and albums, it's cars or the occasional motorcycle.

Such is the exactly case with Volvo's stonking S60 Polestar Concept, which makes its appearance in Jay's warehouse of wonders this week. Tuned by in-house skunkworks Polestar, the "Swedish Racing Blue" S60 has certainly been making the rounds as of late, with recent appearances near Leno's garage at the LA Auto Show and an Auto Motor und Sport track faceoff against the BMW M3 and Audi RS4 Avant.

Perhaps we shouldn't be surprised that Volvo is so keen to get its showcar in front of the cameras – last we heard, executives were seriously considering a small production run for their unlikely 508-horsepower, all-wheel drive sport sedan, though we continue to hear that realistic pricing is likely to be a roadblock.

Regardless of whether the S60 Polestar has a production future or not, we can't get enough of it. If you're like us, check out Leno's video below for more.


---
By Chris Paukert
---
See also: Volvo to finally replace XC90 in 2014, IIHS says these are the safest cars of 2013, Volvo buyers have best credit scores among all auto shoppers.