Volvo Concept XC Coupe leaked [w/video] [UPDATE]
Tue, 07 Jan 2014 14:00:00 EST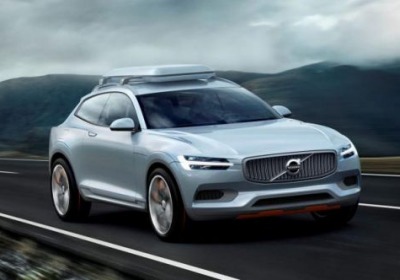 Last month, Volvo gave us a teaser of its new Concept XC Coupe, set to debut at the Detroit Auto Show. And now, just a few days before the doors open at Cobo Hall, leaked images of the stylish new crossover showcar have leaked online, courtesy of CarBuyer.co.uk.

The Concept XC Coupe is a sort of high-riding successor to the very attractive Concept Coupe that wowed us at the 2013 Frankfurt Motor Show. With its burlier dimensions and hatchback configuration, the Concept XC gives us a better glimpse at Volvo's new styling direction, which is expected to debut in production form on the next-generation XC90 crossover. We've already seen some leaked sketches of the new XC90, and it sure does look like this Concept XC.

We don't have any further details about the Concept XC Coupe, but from the images, we can see that it will use a four-passenger seating configuration, with rear seats that fold flat. There are also exterior badges for surround radar and a 360-degree camera system, suggesting some new safety tech fitting of safety-minded brand.

Have a look at a dozen leaked shots in the gallery above, and scroll down to watch Volvo's original Concept XC Coupe teaser video. We'll have the official goods before you know it.

UPDATE: Even more images of the Concept XC Coupe can be found in the gallery above, and Volvo's official press release has been added below.



The Volvo Concept XC Coupe: Sophisticated capability and safety inspired by modern sports equipment

Second in line of three concept cars is the Volvo Concept XC Coupe. Inspired by modern high-tech sports equipment it is a sophisticated, capable and safe car for people with an active lifestyle.

"Those who love gravity sports freely seek new thrills and challenges. To ensure that they make it back in one piece they prefer high performance gear that offers the ultimate sense of freedom and protection," says Thomas Ingenlath, Senior Vice President Design of Volvo Car Group.

"Volvo Concept XC Coupe is perfectly in tune with this active lifestyle. Its capability and protection is cleverly integrated into the sophisticated looks. The XC is ready and willing to bring you into the adventure zone and back," he adds.

Sleeker and safer at the same time

The three concept cars are designed to demonstrate vital elements of the company's new Scalable Product Architecture (SPA): the confident stance, the proportions and the most prominent design signatures.

"Concept XC Coupe also shows how clever engineering makes it possible for us to reinforce our world-leading safety without compromising design, size or weight. Thanks to extensive use of high-strength boron steel and structures with new, ingenious decoupling we can make SPA cars more compact and safer at the same time," says Thomas Ingenlath.

The two-door, four-seater Volvo Concept XC Coupe has a strong connection with its sibling Volvo Concept Coupé.

However, the larger 21-inch wheels, the more accentuated wheel-arches and the taller roofline contribute to a more robust impression and a fuller, capable look.

The extended distance between the dashboard and the front axle is still a very powerful visual element. The capable stance is emphasized by details, such as the new bonnet and a beltline that spans an elegant bow along the whole car.

High-tech sport gear

The inspiration from and recently established co-operation with the Swedish company POC – developers of high-tech protective gear for gravity sports athletes – is highly present in the concept car.

"Several orange details and exterior graphics in combination with a bold use of matte rubber mouldings, which cover the rear end of the car, add to the highly functional expression in the design." says Thomas Ingenlath.

To strike the right balance between aesthetics and functionality, the design team has also given traditional SUV elements, such as side mouldings and skid plates, a modern interpretation. They are more integrated in the sleek design, flush with the surrounding body areas.

T-shaped DRL lights

Just like Volvo Concept Coupé, the face of the Volvo Concept XC Coupe is characterised by a new topography on the bonnet and the 'floating' grille, flanked by headlights featuring new T-shaped DRL light guides. The rear light signature is also a distinctive element in the new design direction of Volvo Cars.

"Both concept cars show how we can shape our cars from now on. We add emotional value to the Volvo brand with the calm, confident beauty that is the hallmark of Scandinavian design," says Thomas Ingenlath.
---
By Steven J. Ewing
---
See also: 2014 Volvo V60 to start at $35,300*, Volvo calls in S60 T5 over oil pressure indicator, Volvo Polestar celebrates STCC title with Black R edition S60, V60 and XC60.