Volkswagen unveils sportier Passat Performance Concept ahead of Detroit debut
Fri, 11 Jan 2013 13:28:00 EST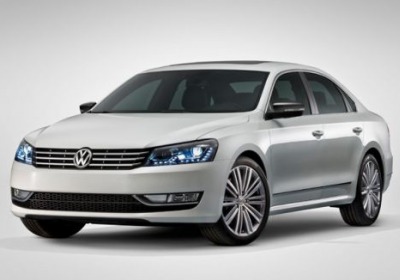 Ahead of its official unveiling at next week's Detroit Auto Show, Volkswagen has released some preliminary details and images of its Passat Performance Concept – a car that, as its name suggests, adds a little more spice to the automaker's midsize sedan formula. VW makes no mention of any production intent for this road-ready-looking sedan, simply stating that the Performance Concept is a way to "explore this practical four-door's sportier side."

It certainly doesn't look too sporty, the only visual upgrades being larger 19-inch wheels, dual exhaust, bi-xenon headlamps with VW's Advanced Front Lighting system, LED taillmaps and carbon-look mirror caps. Inside, there are carbon interior accents and two-tone leather upholstery. But no matter, the real upgrades for this mightier Passat are found below the sheetmetal.

Powering the Performance Concept is a 1.8-liter turbocharged four-cylinder engine, churning out 250 horsepower and sending its grunt to the ground via a six-speed automatic transmission. For reference, that's 80 more horsepower than the Passat's base 2.5-liter inline-five, but 20 horsepower less than the potent 3.6-liter VR6. As for other performance upgrades, Volkswagen has fitted the car with a lowered sport suspension and revamped electronic steering, which should indeed add a bit more dynamic feedback to the already nice-driving sedan.

We'll see the Performance Concept in the metal next week under the lights of Cobo Hall. In the meantime, scroll down to read Volkswagen's brief press release.

GLOBAL DEBUT OF VOLKSWAGEN PASSAT PERFORMANCE CONCEPT AT 2013 NORTH AMERICAN INTERNATIONAL AUTO SHOW

- All-new 1.8 TSI engine delivers 250 horsepower and gives a sneak-peek at upcoming sport sedan
- Bi-Xenon-Headlights with Advanced Front Lighting System (AFS) and LED taillights
- Carbon-style detailing inside and out

Herndon, VA - 2012 will go down in the Volkswagen Passat's history as its best sales year ever, with 117,023 units sold of the designed-for-America, Chattanooga-built family sedan. In an exercise to hint at Volkswagen's efforts to explore this practical four-door's sportier side, Volkswagen will unveil the Passat Performance Concept at the 2013 North American International Auto Show® in Detroit.

The most notable alteration in this concept isn't something you'd see right away-it's under the hood. The Passat Performance Concept features a unique modification of the Volkswagen EA888 1.8 liter turbocharged and direct-injected TSI® four-cylinder engine, which delivers 250 horsepower (184 kW) and is matched to a six-speed automatic transmission. In its existing form, this engine is already available-and popular-among the European and Asian markets.

The Passat Performance Concept further differentiates itself from the regular Passat with a dual exhaust, 19-inch "Luxor" alloy wheels, Bi-Xenon headlights including Advanced Front Lighting System (AFS) and LED taillights and carbon applications on its mirror caps. Inside, carbon-like touches dominate the dashboard, matching the carbon-style inserts on two-color leather seating surfaces and complementing the black headliner and side pillars. A lowered sport suspension and electro-mechanical steering enhance the handling.
---
By Steven J. Ewing
---
See also: Prop-driven VW Beetle hopes to land in Bonneville [w/video], VW joins Daimler's protest of new A/C refrigerant as EU deadline for compliance passes, IIHS says these are the safest cars of 2013.