Volkswagen hatches hotter GTI in Geneva
Tue, 05 Mar 2013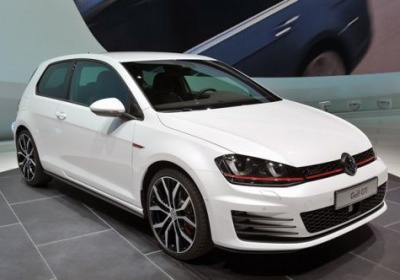 The all-new seventh-generation Volkswagen Golf hasn't even launched here in the United States, but over in Geneva, we're already getting our first glimpse at the hotter GTI hatchback. The fancy new Mk VII Golf is already off to a healthy start with positive reviews in Europe, and we have no doubt that this next GTI will work hard to regain its title as king of the hot hatches.

The big news for this generation of GTI is that for the first time ever, Volkswagen is actually offering two different power grades for the model, both relying on the 2.0-liter turbocharged inline-four. Standard cars pack 220 horsepower and 258 pound-feet of torque, but an optional performance pack ups the horsepower number to 230. Hitting 60 miles per hour takes 6.5 seconds (6.4 with the performance pack) and top speed is quoted at 153 mph (or 155 with the performance kit). Volkswagen will continue to offer the GTI with both six-speed manual and dual-clutch transmissions.

On the visual front, the sub-3,000-pound GTI adds the usual bit of hot hatch aggression over the standard Golf, and those changes carry over to the interior with a flat-bottomed wheel and, of course, plaid seats. She's certainly a looker, and while some of us do find the new Golf's design to be a bit staid and evolutionary, the enhancements for the GTI indeed tug on our enthusiast heart strings.

European customers can purchase the 2014 GTI in May, and North American deliveries will likely start in about one year's time.

VOLKSWAGEN DEBUTS NEW GTI AT THE GENEVA AUTO SHOW

- Available with two levels of power for the first time: standard 220 horsepower or 230 hp with performance pack (European model)

- Offers 18 percent improvement in fuel economy compared to previous GTI

- On sale in Europe starting in May, 2013

Wolfsburg, 27th February 2013 – Following tradition, Volkswagen will introduce the latest version of the Golf GTI at the Geneva International Motor Show. For the first time, the iconic hot hatch is available at launch with two power levels: 220 horsepower; or 230 hp with the optional performance pack.

The new GTI is powered by a turbocharged direct-injection gasoline engine (TSI®) that makes 220 hp and 258 pound-feet of torque in standard form. Volkswagen is offering a factory- installed performance pack for the first time, which boosts power to 230 hp. Both versions are equipped with a Stop-Start system, fulfill the EU-6 emissions standard that takes effect in 2014, and attain the same excellent DIN gas mileage figure of 39.2 mpg-which equates to 139 g/km of CO2-when equipped with the six-speed manual transmission. This means that the new GTI offers an 18 percent improvement in fuel economy compared to the previous model. With the optional six-speed DSG® dual-clutch automatic transmission, the 220- and 230-hp GTIs return 36.8 and 36.2 mpg respectively (equivalent to 148 and 150 g/km CO2).

The sporty nature of the Golf GTI is reflected in its red-painted brake calipers, twin chrome tailpipes, and a lowered sport suspension. The exterior of the compact hatchback also scores with 17-inch "Brooklyn" GTI wheels and 225/45 tires, special side skirts, a rear diffuser, and smoked LED taillights with LED license-plate illumination.
---
By Steven J. Ewing
---
See also: Volkswagen formally introduces super-efficient XL1, Europeans get first crack at new Golf Variant wagon, Volkswagen Golf Wagon leaked ahead of official unveiling.