Volkswagen formally introduces super-efficient XL1
Mon, 04 Mar 2013 19:15:00 EST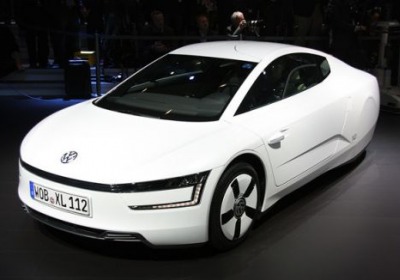 Lightweight and low drag are hallmarks of great sportscar design. But when paired with a super-efficient, hybrid powertrain, you have the Volkswagen's XL1 that has been formally introduced in Geneva today.

When the 1,700-lb, carbon-fiber-bodied two-seater hits the road, its claimed 261 miles per gallon will make it the world's most-fuel-efficient production car. Though "production car" might be a stretch since VW said in a February press release that the XL1 would be built using "handcrafting-like production methods." We translate that to mean you won't be seeing many of these cars on the road. Though no one at VW has mentioned pricing yet, early rumors suggested a six-figure price tag.

That's supercar budget for a vehicle that has a 47-horsepower, two-cylinder diesel engine and a 27hp electric motor. With numbers like that, owners can expect 0-62 mph times of 12.7 seconds and top speed near 100 mph.

No new information was released in Geneva so we still don't know how many XL1s will be built or when interested buyers can start placing their orders. Still, we invite you to check out the high-res images live from VW's annual pre-show event above.
---
By Chris Tutor
---
See also: Europeans get first crack at new Golf Variant wagon, Volkswagen Golf Wagon leaked ahead of official unveiling, Volkswagen e-Co-Motion concept poised for delivery to Geneva.