Volkswagen e-Co-Motion concept poised for delivery to Geneva
Sat, 02 Mar 2013 13:40:00 EST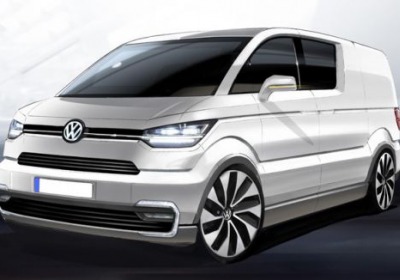 With Nissan getting ready to launch the e-NV200, it appears Volkswagen is looking to go after the same zero-emission commercial vehicle market with the all-electric 2013 e-Co-Motion Concept. Debuting next week at the Geneva Motor Show, the e-Co-Motion Concept might be small in size, but VW says it has cargo and payload capacities that should be perfect for small businesses.

Measuring 179 inches long, 75 inches wide and 77 inches tall, the e-Co-Motion Concept has about the same footprint as the current Golf, and it has a cargo capacity of 162 cubic feet and a maximum payload of more than 1,700 pounds. There isn't too much information on the e-Co-Motion just yet – such as what electric components and platform are used – but the press release posted below states while the concept is shown as a cargo van, future body styles could include a passenger wagon or a refrigerated box van.

THE DELIVERY VAN OF THE FUTURE: VOLKSWAGEN UNVEILS e-Co-Motion CONCEPT

At next week's Geneva International Motor Show, Volkswagen Commercial Vehicles will be showing a transporter concept vehicle: the e-Co-Motion. Despite its large cargo capacity it is compact and manoeuvrable. Eight hundred kilograms of payload, yet zero emissions on the road thanks to an electric drive system.

'Electric mobility – especially in light commercial vehicles – could play a crucial role in meeting the growing transport needs of the world's megacities,' explains Dr. Eckhard Scholz, Speaker of the Brand Board of Management. 'Freight trains and conventional or hybrid-powered high capacity lorries would deliver goods up to the city limits. Then, at transfer stations, smaller electric delivery vans would take over. Their predictable travel routes and fixed depots would simplify battery charging and equipment maintenance.'

Exclusively conceptualised with an electric drive, the e-Co-Motion offers many user-relevant vehicle properties: high manoeuvrability with a small vehicle footprint, very good visibility and seating ergonomics with easy entry, exit and walk-through. A low cargo floor height and large cargo capacity make loading easier.

Fully independent of existing models, the exterior of the e-Co-Motion appeals with its ability to unify what at first appear to be contradictory development specifications: maximum space on a minimal vehicle footprint. From a length of just 4.55 m (width: 1.90 m, height: 1.96 m) the concept vehicle offers a maximum cargo capacity of 4.6 m3 and an impressive 800 kg of payload. This was enabled by clear partitioning of the vehicle body into a lower driving-relevant zone containing an underfloor drive unit, battery and gearbox; and an upper superstructure that is relevant to delivery tasks. This generates ideal conditions for maximum space utilisation, and all sorts of body versions and customer solutions are imaginable. Whether it is a driver's cab in front of a cargo box, as in the concept vehicle, or a passenger shuttle, low platform or refrigerated box: the customer decides.
---
By Jeffrey N. Ross
---
See also: Volkswagen Golf Wagon caught completely uncovered, 2014 Volkswagen GTI to start a new hot hatch era in Geneva, Volkswagen planning Up! hybrid model using XL1 powertrain.