Volkswagen Routan dead, pour out a sippy cup for your little homies
Thu, 28 Mar 2013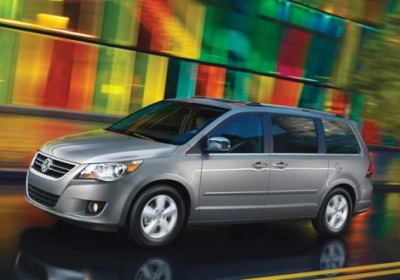 America's minivan wolfpack has just gotten smaller by one. According to Automotive News, Volkswagen officials have confirmed what we've suspected for some time – the Routan is dead. Essentially a lightly reworked version of the Dodge Grand Caravan, the Routan actually hasn't been rolling off of Chrysler's Windsor, Ontario production line at all this year, but VW had yet to confirm its discontinuation. However, Jonathan Browning, CEO of VW America, has reportedly admitted that the Routan is being axed, with remaining units expected to be funneled into corporate functions for "internal purposes."

The move isn't unexpected – the Routan has never been a big seller, with just 57,650 examples moved since sales began in 2008 – peak yearly sales totaled under 16,000 units, and that was back in 2010. And while many have talked of the minivan segment shrinking, Automotive News points out that the segment actually grew 14 percent last year to 597,118 units, though it should be noted that most segments have been on sales upticks as the US economy chugs out of its recession.

So, is volume-crazy Volkswagen prepared to pass on large family vehicle sales? Probably not – the German automaker has signaled that it plans to build a three-row crossover in North America soon, and we wouldn't be surprised if it looks an awful lot like the Crossblue Concept from January's Detroit Auto Show – minus the fancy plug-in diesel powertrain.
---
By Chris Paukert
---
See also: 2014 VW Golf brings storied hatchback's seventh generation to US, World Car Of The Year down to its final four, Chrysler slows minivan production, hasn't built VW Routan this year.