Volkswagen Golf Variant will make a lovely Jetta SportWagen
Tue, 05 Mar 2013 17:59:00 EST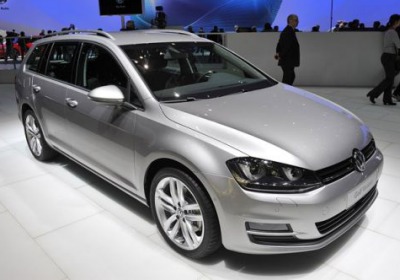 In addition to several other versions of the Golf, Volkswagen is debuting the new Golf Variant (read: wagon) here at the 2013 Geneva Motor Show. And if this bigger version of the Golf looks like it might fit right at home in the States, it's because we could possibly see some version of this car as the next-generation Jetta SportWagen here on our shores.

Volkswagen is debuting the Golf Variant with two efficient diesel engines, rated at 110 and 150 horsepower, the smaller of which is good for an impressive 71.3 miles per gallon on the European cycle (when mated to a six-speed manual transmission). The Golf Variant also gets a version of Volkswagen's 4Motion all-wheel-drive system, making it incredibly all-weather capable.

It's a handsome estate, and it wears the new Golf's design language well. We can't say for sure if this car will actually make its way Stateside, but given the fact that the current Jetta SportWagen still rides on the old Golf platform, the odds look to be in our favor.

NEW VOLKSWAGEN GOLF VARIANT MAKES ITS DEBUT AT THE GENEVA AUTO SHOW

- Versatile station wagon is significantly roomier than predecessor, yet up to 232 pounds lighter

- TDI® BlueMotion model is the most fuel-efficient Volkswagen wagon ever, with an EC combined fuel consumption figure of 71.3 mpg

- Golf Variant goes on sale in Europe in August, 2013

Wolfsburg/Geneva, March 2013 - Volkswagen will expand the Golf range even further at the 83rd Geneva Salon de l'Automobile with the debut of the new Golf Variant (wagon). Like the new Golf hatchback, the Variant is significantly lighter than its predecessor, to the tune of up to 232 pounds.

For the first time, Volkswagen is also offering the Golf Variant as a stand-alone and extremely fuel-efficient TDI BlueMotion model in Europe. The 110-horsepower Variant is the most fuel-efficient Volkswagen wagon ever, with an EC combined fuel economy figure of 71.3 mpg (equivalent to 87 g/km CO2) when equipped with the six-speed manual transmission.

The all-wheel-drive Golf Variant 4Motion will also debut in Geneva. It will be available as a TDI Clean Diesel model with 105- and 150-hp engines. Volkswagen has a Golf Estate TGI BlueMotion with natural gas drive (CNG) in the pipeline, too.
---
By Steven J. Ewing
---
See also: Volkswagen Golf voted 2013 European Car of the Year, Volkswagen hatches hotter GTI in Geneva, Volkswagen formally introduces super-efficient XL1.