Vampire Weekend burns for Saab
Thu, 21 Mar 2013 16:57:00 EST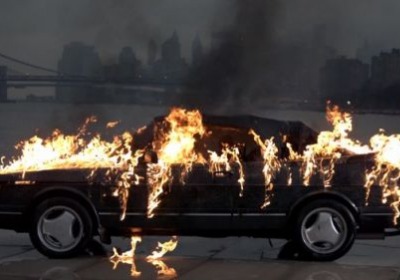 Or is it the other way around?

Could Vampire Weekend be trying to tell me something? A just-launched music video for the indie rock band's new single Diane Young features what looks like a pretty mint black Saab 900 Turbo Convertible being torched in slow-motion. In fact, with the exception of a brief, flickering cameo by a 900 three-door of a similar vintage, that's all that there is to the nearly three-minute long video. It's both sad and oddly beautiful.

Coincidentally, I have a similar-looking turbocharged black Saab convertible sitting in my garage, and I've been reluctantly pondering its sale this very week. Admittedly, mine is a later model (2001 9-3 Viggen), but tri-spokes and more tapered rump aside, it looks eerily identical. And while mine isn't mired in flames (I love it too much to torch it), through no fault of its own, it's been sitting motionless far too regularly. Thankfully, I see a better future for it than the droptop seen above.

So, what's the deal? Did VP lead vocalist Ezra Koenig have a Saab love affair that went bad, leading to this conflagration of music video? Is he unhappy about the fate of the perennially troubled Swedish automaker? Or did he and the band just figure that the video below was an attention-grabbing/artsy and inexpensive way to put promote their forthcoming album, Modern Vampires of the City? The world might never know...


---
By Chris Paukert
---
See also: The Saab 9-3 that never was finally shows up, Grainy leaked images show stillborn Castriota-designed Saab 9-3, Saab 9-3 production to start in China in 2013 [UPDATE].