VW to unveil diesel-electric Twin-Up! in Tokyo
Fri, 08 Nov 2013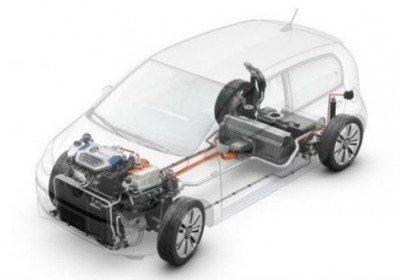 We've received multiple reports that Volkswagen will be bringing a diesel-electric concept to the 2013 Tokyo Motor Show, set to take place later this month. The car, called the Twin-Up!, is based on the Up! city car, with some sources claiming this is a thinly veiled concept that will eventually enter production.

According to Automotive News Europe, the Twin-Up! will reportedly return 214 miles per gallon on the US cycle by combining an 800-cc, two-cylinder diesel and an electric motor. It will also boast plug-in capabilities, and will be able to cover 30 miles on electric power alone.

Autocar has a more complete picture of the Twin-Up!'s powertrain, though, claiming it's a modified version of the hybrid system found in the Volkswagen XL1. The Twin-Up! will get a more potent, 47-horsepower electric motor to the XL1's 27-hp unit, but will retain that car's 47-hp turbodiesel. The battery pack will also grow, from 5.5 kilowatt hours to 8.6 kWh. Both of these increases are necessary due to the increased weight of the Twin-Up! – it's some 900 pounds heavier than an XL1.

Despite the weight gain, the Twin-Up! should still feel spritely in dense, urban settings. It'll hit 62 mph in a leisurely 15.7 seconds, but will reach 37 mph – a reasonable city speed – in 8.8 seconds. The top speed is 99 mph.

We'll have much more on the Twin-Up! when it makes its debut at the 2013 Tokyo Motor Show on November 20. Until then, be sure to check back as more info leaks out in the coming weeks.
---
By Brandon Turkus
---
See also: Audi CVT suit settlement given green light, 64,000 cars covered, VW Beetle R is one mean bug, VW readying new VR6 with forced induction.