Toyota's refreshed Sai is a Lexus HS by any other name
Wed, 04 Sep 2013 13:01:00 EST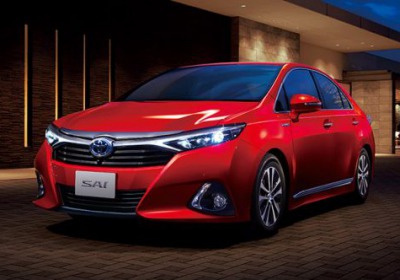 Toyota first launched Lexus in the United States back in 1989, but it wasn't until 2005 that it brought the luxury marque home to roost. But don't think that Toyota didn't find a way of selling many of its premium models in the Japanese Domestic Market in the meantime. The Lexus LS was sold as the Toyota Celsion, the ES as the Vista and Camry Prominent, and the SC as the Soarer. (We could go on, but you get the point.)

These days Lexus sells in markets around the world, including Japan, but Toyota still spins off its own versions of Lexus models to sell domestically as well. Like the new Sai, for example. Sharing its platform, hybrid propulsion and much more with the Lexus HS (which you may remember as the world's first dedicated luxury hybrid until it was pulled from the market early last year), the Sai was introduced to Japan at the same time as the HS was rolled out around the world. Now nearly four years on the market, Toyota has given it a bit of a refresh.

Boasting a far more aggressive front end and a restyled rear, the revised Sai features LED headlights, 16-inch alloys and a higher-quality interior in which JDM buyers will find a new center console and trim, along with an optional 10-speaker infotainment system. Toyota also boasts that the new Sai is made of 20-percent Ecological Plastic and recycled resin.

Power still comes from the same 150-horsepower 2.4-liter inline-four and 143-hp electric motor for a combined maximum output of 190 hp. Toyota anticipates selling 2,000 of these every month in Japan. Read all the details in Toyota's official press release below.

TMC Launches Redesigned 'Sai' Hybrid Sedan in Japan

Toyota City, Japan, August 29, 2013-Toyota Motor Corporation (TMC) announces the launch in Japan of the partially redesigned "Sai" hybrid sedan. Sales began today through Toyota dealerships across Japan.

The Sai was first launched in 2009, with the name and concept taken from two different Chinese written characters (both pronounced "sai") meaning talent and coloration. Both the interior and exterior have been revamped with ultra-wide headlamps and other features to evoke greater luxuriousness and modernity, with the updated styling appealing to consumers of all ages. Improved body rigidity and aerodynamics provides superior, lighter handling as well as better ride.

A new level of environment-friendliness has been achieved with the new Sai achieving fuel economy of 22.4 km/L and C02 emissions of 104 g/km under the Japanese Ministry of Land, Infrastructure, Transport and Tourism JC08 test cycle. Moreover, use of recycled materials has also been greatly expanded with approximately 80 percent of the interior surface area made from Ecological Plastic1.

With the Sai, TMC has achieved its target of 20 percent usage of Ecological Plastic and recycled resin materials for resin parts in vehicles two years ahead of schedule. This target was detailed in the Toyota Recycle Vision2, TMC's vehicle environmental technology guideline stipulated under the Fifth Toyota Environmental Action Plan2 (a five-year plan covering 2011-2015).

The Sai is thus aimed to stand at the forefront of environment-friendliness.

Some descriptions apply to select model-grades/versions only.

Monthly sales target for Japan: 2,000 units

Assembly Plant: Miyata Plant, Toyota Motor Kyushu, Inc.
Grade

Hybrid System

Driveline

Price*

S

THS II with reduction gear

Front-wheel drive

3,210,000 yen

C Package

3,310,000 yen

G

3,820,000 yen

A Package

4,210,000 yen

*Includes consumption tax, does not include recycling fees and differs in Hokkaido and Okinawa

Vehicle Outline
Advanced, Luxurious Interior and Exterior

Exterior

The Sai exterior was completely overhauled for an advanced, modern look. Character lines flow seamlessly from the front emblem, through the sides, and to the rear, for a smart, sleek form.

Ultra-wide headlamps stretching across almost the entire front mask highlight the bold, intrepid design. Powerful LED beams are projected forward from the headlamps extending across both sides to create a front view unique to the Sai. Thick horizontal lines, stacked from the hood down to the bumper, further accent the front.

A broad feeling of stability is conveyed by the rear view which flows smoothly from the rear emblem to the combination tail lamps. Rear reflectors, placed at the extreme bottom of each side of the bumper, further emphasize vehicle stability and result in a unique configuration that is easily identifiable.

The standard 16-inch aluminum wheels feature a combination of machine-cut highlights and black paintwork to bring the surrounding bodywork into stark relief, while emphasizing the sporty look of the wheels. Available as options3, 18-inch aluminum wheels combine clean machine-cuts and metallic gray paintwork with multiple spokes that underscore the vehicle's sense of speed.

Three new exterior colors-Red Mica Metallic, Grey Mica Metallic, Clear Stream Metallic-bring the total available colors to seven.

Interior

The dashboard, including the center console and instrument cluster, has been redesigned with wood-grain and metal-plating accents to create a modern and luxurious interior.

The luxurious look is further refined with a center console that extends seamlessly from the video display to the console box.

The cockpit clearly delineates between display and command zones, and also incorporates the refined and evolutionary Remote Touch control system for enhanced elegance and user-convenience.

The sophisticated interior features stitched fabric on the shifter knob, armrests and gauge hood, as well as audio dials etched from aluminum.

Switches and instrument gauges are illuminated with a clear blue4, with the glow of the metal-plated center console moldings also providing cabin illumination.

There are three colors (four types) of interior to choose from including a new gentle, relaxing, and warm red color, inspired by the Japanese akane plant.

Vastly Improved Basic Performance

The use of reinforced sound insulation material, sound-reducing glass, and a refined engine mount reduces unwanted noise within the cabin to an extreme low, allowing quietness surpassing other typical high-end models of the large sedan class.

Aero-stabilizing fins, performance dampers3 and additional spot-welding points combine to deliver a more comfortable ride and more stable handling.

Hybrid-system control technology was updated to achieve fuel economy of 22.4 km/L and CO2 emissions of 104 g/km under the Japanese Ministry of Land, Infrastructure, Transport and Tourism (MLIT) JC08 test cycle. The vehicle also exceeds the MLIT fuel efficiency standard for 2015 by 20 percent and achieves emissions levels 75 percent lower than the 2005 standards under the MLIT's Approval System for Low-Emission Vehicles, making it eligible for tax reductions under the Japanese government's tax incentive program for environment-friendly vehicles.

The new Sai also features a new Sports Drive mode. A slight press of the accelerator results in a powerful increase in speed which, coupled with an adjustment in power steering controls, provides greater driving response.

Cutting-Edge Environmental Technology

The use of recycled resin materials has been greatly expanded to include usage in a total of approximately 100 parts, including the lower grille, the underfloor cover, and even in the pigments used in the interior coloring (for which using recycled materials has traditionally been difficult). Eighty percent of the interior surface area is now made from plant-based Ecological Plastic. The weight of recycled resin materials has been increased by approximately a factor of three, leading to an even more environment-friendly car.

Cutting-edge Equipment That Anticipates the Future

Now available is a cutting-edge, 10-speaker SD Navigation system5. With a microSD card slot, Blu-ray compatibility and improved features (such as two USB slots instead of one), the Sai seeks to meet the ever-changing needs of consumers.

Available as an option3, an electrical socket for accessories (AC 100 V, 1500 W) can enable the use of the hybrid system battery as a power supply in the event of an emergency.

Key Specifications
Length/Width/Height

4,695 mm / 1,770 mm / 1,485 mm

Wheelbase

2,700 mm

Engine

Model

2AZ-FXE

Displacement

2,362 cc

Maximum output

110 kW [150 PS] / 6,000 rpm

Maximum torque

187 N-m [19.1 kgf-m] / 4,400 rpm

Motor

Maximum output

105 kW [143 PS]

Maximum torque

270 N-m [27.5 kgf-m]

Complete system*

Maximum output

140 kW [190 PS]

Battery

Nickel-metal hydride

Fuel efficiency

Under JC08 test cycle

22.4 km/L

*Using both engine power and electric motor power (based on TMC calculations)
Welcabs: Specially equipped vehicles with factory-installed features
Welcab6 models of the Sai feature the same improvements as the standard models. In addition, the Lift-up Front Passenger Seat model is fitted with a new armrest designed to help ease vehicle egress and ingress.
Welcab Manufacturer's Suggested Retail Prices
Model

Grade

Hybrid system

Driveline

Price*
Welcab Lift-up Front
Passenger Seat (Type A)
S
C Package

THS II with reduction gear

Front-wheel drive

3,860,000 yen

G

3,986,000 yen

Welcab Lift-up Front
Passenger Seat (Type B)
S
C Package

3,933,000 yen

G

4,059,000 yen

*Differs in Hokkaido and Okinawa and excludes recycling fees; exempt from consumption taxes
1Plastic made from plant material
2Toyota established its first Toyota Environmental Action Plan in 1993, as a means of implementing concrete initiatives that reflect the policy expressed in the 1992 Toyota Earth Charter. As part of the Third Toyota Environmental Action Plan (2001-2005), the Toyota Recycle Vision was established in 2003.
3Available as an option in the G-grade and G-grade "A package" models
4Standard in G-grade and G-grade "A package" models
5Standard in G-grade and G-grade "A package" models; available as an option in S-grade and S-grade "C package" models
6Specially equipped vehicles to assist the needs of the elderly, the disabled, and others who require extra care or support
---
By Noah Joseph
---
See also: Toyota and Lexus recalling 235,000 hybrid CUVs and sedans over separate issues, 2014 Toyota 4Runner priced at $32,820*, Toyota Yaris Hybrid-R zips in on its way to Frankfurt.