Toyota's production fuel cell car to cost between $50-100k
Fri, 03 May 2013 08:45:00 EST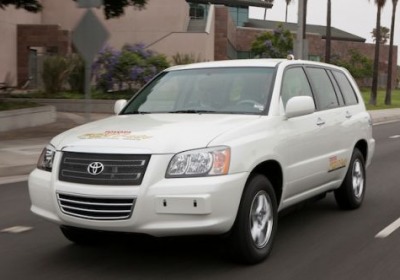 While the cost of building a hydrogen fuel cell vehicle continues to go down over time, reports over the last few years have steadily maintained that the first Toyota hydrogen-powered vehicles for customers should ring up for around $50,000. Company officials cited this figure way back in 2010, and have reiterated it in subsequent years.

So, while a recent Automotive News report about the cost of Toyota's 2015 Hydrogen car doesn't offer up any new figures, it does offer an interesting pricing wrinkle. According to the report, the "cost factor" for the hydrogen vehicles will be in the $50k ballpark, meaning the retail price could be anywhere from there, up to as much as around $100,000.

While certainly not inexpensive, being able to produce a hydrogen fuel cell vehicle for fifty large is a pretty massive improvement over the prototype cost of a few years ago, when the sticker was about $1 million a pop. While these very expensive prototypes are based on previous-generation Highlanders (pictured above), we're told to expect that the final product will be a lot more in line with the Prius, as far as size and shape.
---
By Seyth Miersma
---
See also: Watch a Camry driver in full road rage, 2014 Toyota 4Runner revealed at Stagecoach Music Festival, Toyota maintains world's largest automaker crown, GM and VW close behind.