Toyota recalls 209,000 FJ Cruisers over seatbelt issue
Sat, 16 Mar 2013 10:58:00 EST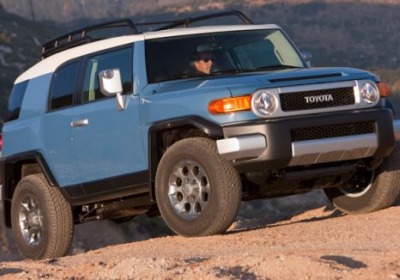 Toyota has announced that it will be issuing a substantial recall of the FJ Cruiser for a problem that could cause the front seatbelt retractors to separate from the vehicle body. This recall will apply to all FJ Cruisers – from 2007 through 2013 – totaling around 209,000 units.

The problem stems from the FJ Cruiser's pillarless door opening design that has the front-occupant seatbelts attached to the rear doors. Toyota says that when the rear doors are "repeatedly and forcefully closed," the retractor could completely separate from the door frame.

While there is no information about this recall from the National Highway Traffic Safety Administration yet, Toyota says that there have been no accidents or injuries associated with this issue. No specific fix or recall date are given, but the official press release is posted below.

Toyota Announces Voluntary Safety Recall of Certain 2007 through 2013 Model Year FJ Cruiser Vehicles

TORRANCE, Calif., March 15, 2013 – Toyota Motor Sales, U.S.A., Inc. (TMS), will conduct a safety recall involving approximately 209,000 FJ Cruiser vehicles.

The seatbelt retractors for the driver and front passenger seat belts are mounted in the rear doors (access doors) of the vehicle. Due to insufficient strength of the rear door panel, cracks may develop over an extended period of time if the rear door is repeatedly and forcefully closed. If cracks occur in the panel around the lower seatbelt retractor anchor, the seatbelt retractor may become detached.

No accidents or injuries have been reported for this condition.

Owners of vehicles covered by this safety recalls will receive an owner notification letter via first class mail starting in the near future. Any authorized Toyota dealer will perform this recall at no charge to the vehicle owner.

Detailed information is available to customers at www.toyota.com/recall and the Toyota Customer Experience Center at 1-800-331-4331.
---
By Jeffrey N. Ross
---
See also: Toyota GT86 engineers explored shooting brake and sedan variants, are they still in the cards?, Toyota confirms 2014 Highlander is in a New York state of mind, Toyota pondering high-performance GT86 hybrid?.