Toyota Tacoma helps stand up to your girlfriend, mimes, magicians and the Grim Reaper
Mon, 26 Aug 2013 19:59:00 EST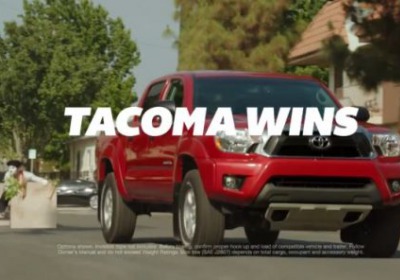 It takes a lot to get a product noticed in today's fast-paced world, but one avenue that's always seemed to grab the eyeballs of consumers has been humor. Toyota knows this rule well, and has put together a quartet of spots called "Tacoma Wins," in which the midsize pickup's features and specifications best a number of seemingly worthy competitors.

Whether it be sobbing girlfriends, a circus magician, a grim reaper or the scariest thing of all, a mime, the Tacoma looks well equipped to deal with it. Take a look below for all four of Toyota's newest spots.









---
By Brandon Turkus
---
See also: Lexus GX, Toyota Land Cruiser Prado facelifts leaked, Toyota's Euro Aygo spied in prototype form, Toyota 86 most likely to get more power through more displacement? [w/poll].