Toyota FT-86 Open Concept would make a mighty fine droptop FR-S
Tue, 05 Mar 2013 09:58:00 EST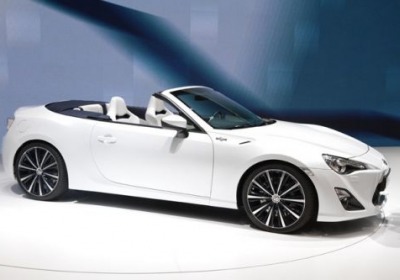 There's nothing wrong with going topless. And Toyota is proving that its FT-86 (read: Scion FR-S/Toyota GT86/Subaru BRZ) coupe is just as excellent with its roof removed. It may only be a concept, but this FT-86 Open previews a new droptop from the Japanese automaker to round out the Toyobaru sports car family. We're finally getting the chance to see the open-air FT-86 in person here at the Geneva Motor Show, and we're already yearning to take it canyon-carving.

Interestingly, the FT-86 retains the Toyota coupe's two-plus-two seating arrangement (we'd prefer a proper roadster setup here), but things still look good for this droptop two-door. We'll be curious to see how the car looks with its folding soft top in place (operated by fancy-shmancy electronics, by the way).

As for production intent, rumors have been flying about a production Scion FR-S convertible, but until we hear it directly from Toyota. Consider our hopes in check but our fingers crossed.

WORLD DEBUT FOR TOYOTA FT-86 OPEN CONCEPT

KEY POINTS

- Toyota to unveil new FT-86 Open at Geneva motor show

- Concept created to gauge reaction to possible development of a cabriolet version of the GT86 sports coupe

- Soft-top design allows 2+2 seating format to be retained, with minimal impact on boot space

- Unique colour scheme created in Milan to reflect the city's world-leading design status

- Toyota will present its new FT-86 Open concept for the first time at the Geneva motor show, a car created to test the water for the possible introduction of a convertible version of its globally acclaimed GT86 sports coupe.

The concept has been designed to deliver the lively, highly engaging and accessible performance and dynamic abilities of the GT86 with the added appeal of top-down motoring.

Its external dimensions match those of the coupe (length 4,240mm, width 1,750mm, height 1,270mm), with the fixed hard-top replaced by a multi-layered fabric roof with a glass rear screen. Inside it has the same 2+2 seating format, with the roof folding down behind the fixed rear seats, with minimal impact on the space available for luggage.

The show car has a special pure bright white and navy blue colour scheme designed by Toyota Boshoku Milan Design (TBMD) to capture the spirit and atmosphere of Milan, one of the world's leading centres for fashion and design. The bodywork is finished in white, contrasting with the blue of the roof. Inside, the perforated white leather upholstery is layered over a navy blue backing, with golden yellow accent stitching and carpets.

The FT-86 Open uses the same platform and powertrain as the GT86. At its heart is the naturally aspirated, horizontally opposed 1,998cc four cylinder "boxer" engine. Equipped with Toyota's D-4S direct injection technology, this compact unit is set low, helping lower the car's overall centre of gravity, and is capable of producing 100bhp per litre. It drives the rear wheels through a short-throw, six-speed manual gear shift or a six-speed automatic – the latter with the world's fastest paddle shift speed, just two tenths of a second.

As with the production GT86, it features MacPherson strut front and double wishbone rear suspension to give a direct handling feel, instant response and a high level of control. The electric power steering has a quick 13.1:1 ratio that's on a par with racing models, while large ventilated disc brakes fore and aft deliver excellent pedal feel for car control finesse.

Toyota has pinpointed numerous areas that will need further engineering evaluation to assess the impact of the cabriolet design on performance, vehicle rigidity, balance, weight and aerodynamics. However, with features such as frameless doors, the GT86 was designed with the development of a cabriolet in mind, which means the impact on structural rigidity by converting to an open-top design should not be great. Efficient measures to preserve rigidity are being analysed, such as the use of door lock reinforcements.

GT86 has a near-perfect 53:47 front-to-rear weight distribution, helping deliver ideal response to even subtle steering, throttle and brake inputs, and a low, 460mm centre of gravity. While introducing a fabric roof is likely to bring the centre of gravity even lower, further engineering analysis will be needed to match the balance of the coupe.

GT86 tips the scales at only 1257kg, thanks to comprehensive weight-saving measures, giving the car a power-to-weight ratio of around 160bhp per tonne This is crucial to performance, given the car uses an engine with a relatively small capacity. Engineering the cabriolet to be "weight-neutral" relative to the coupe will be a key area of study should Toyota decided to progress with the project.
---
By Steven J. Ewing
---
See also: Toyota i-ROAD leans its way into the city [w/video], Leaked Toyota FT-86 Open concept images preview droptop Scion FR-S [w/video], Leaked Toyota FT-86 Open concept images preview droptop Scion FR-S [w/video].