Top Gear caught filming Best of British near Buckingham Palace
Mon, 24 Jun 2013 14:58:00 EST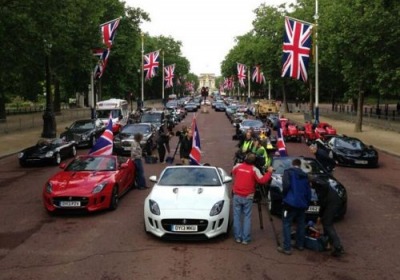 YouTuber and car-fan extraordinaire Shmee probably had very little trouble tracking down the Top Gear film crew recently, as the group was putting together an episode that could accurately be described as "excessive." With its flag-waving (literally) Best of British theme, the TG guys gathered a jaw-dropping array of British cars, and parked them all right in front of Buckingham Palace to make extra sure that the point was driven home.

Top Gear hosts Jeremy Clarkson, Richard Hammond and James May were outfitted with a trio of Jaguar F-Types festooned with gigantic Union Jacks, with which to survey the landscape of British motoring glory. In the video below, you'll see that this includes any number of Mini, Aston Martin, Lotus, McLaren, Land Rover, Bentley and Rolls-Royce models (just to name a few), as well as a healthy dose of weird stuff that most people would never guess at being built in the UK. The lawnmowers and military vehicles are especially cool.



---
By Seyth Miersma
---
See also: Never-was Jaguar C-X75 hybrid supercar driven by Autocar, Overnight action from the 24 Hours of Le Mans, Jaguar working on 700-hp, 200-mph hybrid F-Type?.