This is Nissan's 2014 Detroit Auto Show concept
Tue, 20 Aug 2013 15:20:00 EST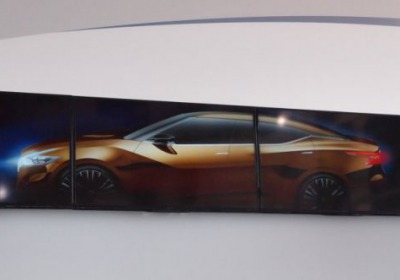 During a media event in Los Angeles today, Nissan flashed a few images of a new concept car that will be unveiled at the 2014 Detroit Auto Show in January. According to Shiro Nakamura, senior vice president and chief creative officer of design and brand management at Nissan, this unnamed concept has a "very strong design signature" and shows "[Nissan's] future design direction."

It's certainly quite sleek, this concept, yet specific elements like the front fascia and taillamps are evolutionary steps from what we're seeing on some of Nissan's newest products. Those rear lamps look like sleeker versions of what the Sentra wears, and that grille appears to be a more stylized version of what the next-generation Rogue has been seen sporting.

As for what, exactly, this concept previews, that's still up in the air, though our best guess is that it hints at a Maxima successor. After all, Nissan did confirm to us that a new Maxima is currently in development, and showing this concept in early 2014 lines up with our predictions that the next-generation sedan should arrive in time for the 2015 model year.

We don't know if Nissan will be releasing official, high-resolution copies of these teasers anytime soon. For now, have a look at our gallery of images above, taken by AutoblogGreen honcho Sebastian Blanco, who is on hand at the event.
---
By Steven J. Ewing
---
See also: Next Nissan Titan will get turbocharged diesel V8 from Cummins, Renault COO Tavares dreams of running GM or Ford, 2014 Nissan Rogue gives us our best look yet.