This Lexus hybrid will paint your self-portrait while you drive
Fri, 25 Oct 2013 14:57:00 EST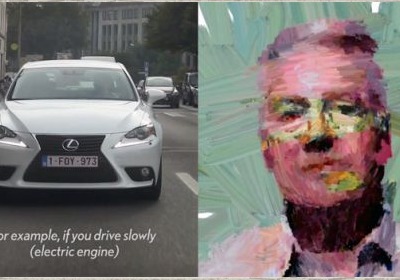 To encourage better driving habits, some hybrids use leaves or tree graphics to portray how efficient or inefficiently a driver is, but Lexus has come up with a more unique method of relaying this information. For its Art Is Motion campaign, Lexus has equipped a Lexus IS300h with special software that enables the car to paint a portrait of the driver by combining the skills of generative artist Sergio Albiac with specific inputs from the driver.

A regular photograph is uploaded into the system, but the portrait will vary depending on how the car is driven. Using vehicle speed, engine speed and how often the hybrid system is used, the driver "paints" a self-portrait via the software that has cloned Albaic's creative process, which then shows up on the car's center display screen. If the driver is more cautious and maximizes electric driving, the image will be clear (as shown above), but if the driver accelerates heavily, the picture becomes more abstract. Similarly, slower speeds result in "colder" colors while higher speeds use "virulent" colors – perhaps signifying this type of driving isn't healthy for the environment.

For now, Lexus has only created one Art Is Motion IS300h, and it plans to auction off this car in the future. Lexus released three videos, which are all posted below, to show off this car, but there is no additional information yet about the auction.







---
By Jeffrey N. Ross
---
See also: Toyota fills in details about its future design direction and global platform, 2014 Infiniti Q50, Lexus IS 250 fail to achieve Consumer Reports 'Recommended' rating, Krafcik says US Gov. shutdown is slowing Oct. auto sales.