The big dune jump and the damage done
Mon, 20 May 2013 19:57:00 EST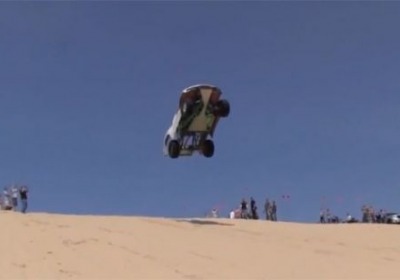 The Silver Lake sand dunes see their fair share of well-built trophy trucks executing impressive jumps. Drivers build insane pieces of machinery for the express purpose of sailing through the air like mad men and women.

Mike Higgins is no stranger to the area. His heavily modified Ford trophy truck has gone flying through the sky on more than one occasion, but he recently bit off more than he could chew. After hitting a particularly lofty dune, Higgins went airborne for a ridiculous 180 feet before becoming intimately familiar with the finer points of gravity.

While Higgins nailed the jump, his landing fell short of wowing the judges. The impact very nearly broke his truck in two. Despite the mechanical mayhem, the driver walked away without a scratch, proving that occasionally miracles really do happen. You can check out the jump and the subsequent destruction below for yourself. Be warned: there's a fair bit of foul language.



---
By Zach Bowman
---
See also: Hennessey completes first VelociRaptor SUV conversion [w/video], Ford Fiesta ST orders off to strong start, 2014 Ford Mustang GT.