Superman-inspired Kia Optima Hybrid helps those affected by drought and famine in Africa
Thu, 07 Feb 2013 18:00:00 EST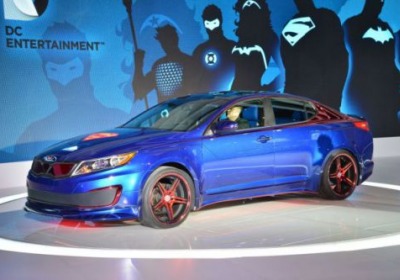 Kia, DC Entertainment and Super Street magazine worked as a team to develop this one-of-a-kind Superman-themed Optima Hybrid that made its debut at the Chicago Auto Show today. The joint effort is designed to raise awareness for DC Entertainment's "We Can Be Heroes" campaign, a charitable relief effort to bring help and hope to people affected by drought and famine in the Horn of Africa.

The metallic blue and red sedan, which thankfully manages to look better in person than it does in the pictures, is the seventh vehicle in a 10-month partnership between the automaker, comic book company and tuner as they build themed vehicles representing all of the Justice League heros. A yet-unseen eighth vehicle will be an amalgamation of all seven Super Heroes in one.

There is no mistaking the blue metallic finish with red chrome accents, or the world's most recognizable superhero's chest emblem glowing on the hood, but you have to look closer to see the Superman logo on the rear fascia and catch the red glow from the headlights. The theme has been carried into the cabin, where occupants will find custom upholstery and Superman's iconic shield on the seats and airbag cover. While the hybrid sedan's gasoline-electric powertrain remains untouched, the Optima features flared fenders, oversize 22-inch wheels and a height-adjustable suspension that is controlled from the cockpit. Read more in the official press blast below.

SUPERMAN-INSPIRED KIA OPTIMA HYBRID SOARS INTO CHICAGO FOR AUTO SHOW DEBUT

World's Most Iconic Super Hero Pairs with Kia's Powerful and Advanced Hybrid Sedan to Create a Uniquely Customized Ride

• Superman-themed Optima Hybrid is the sixth of eight customized Kia vehicles representing characters from the Justice League to benefit DC Entertainment's "We Can Be Heroes" giving campaign
• Super Street and Legendary Artist and DC Entertainment Co-Publisher Jim Lee help bring Superman's strength and integrity from comic book pages to Kia's advanced hybrid sedan

CHICAGO, Feb. 7, 2013 – Kia Motors America (KMA) has teamed up with DC Entertainment and Super Street magazine to create a head-turning Optima Hybrid inspired by Superman's strength and unwavering care for planet Earth. Unveiled today at the 2013 Chicago Auto Show, this Optima Hybrid signals the continuation of a 10-month, eight vehicle partnership between Kia and DC Entertainment based on the iconic characters that make up the Justice League – Superman, Batman, Wonder Woman, Green Lantern, The Flash, Aquaman and Cyborg. An eighth and final vehicle will be an amalgamation of all seven Super Heroes in one. Influenced by the artistry of comic book visionary, Jim Lee, the Justice League-inspired Kia vehicles serve as a force for good in the world by raising awareness of DC Entertainment's "We Can Be Heroes" giving campaign, a relief effort to bring help and hope to people affected by drought and famine in the Horn of Africa (www.WeCanBeHeroes.org).

"As the most recognized Super Hero in the world, Superman is a symbol of strength and integrity, making him the perfect character to join forces with Kia's first-ever hybrid to create a customized ride powered by a robust and efficient powertrain," said Michael Sprague, executive vice president, marketing and communications, KMA. "Each of our Justice League-inspired vehicles are remarkable collaborations between the automotive and comic book worlds, and all for a worthy cause. To that, Kia is very proud to be partnering with DC Entertainment to raise awareness for the 'We Can Be Heroes' campaign."

Working together, Kia, DC Entertainment and Super Street magazine designed and built the Superman-themed Optima Hybrid, a one-of-a-kind Kia that represents the strength and fortitude of the world's most iconic Super Hero. The Optima has been widened with custom fenders, giving the vehicle a muscular appearance, and it features an adjustable suspension system that can raise and lower the vehicle with the push of a button. The stylized color scheme on the hood spotlights Superman's unmistakable chest emblem while an eye-catching red paint design extends to the trunk, evoking the look of his crimson cape. The beveled front grille resembles Superman's belt, and the red headlights glow with the same intensity of his heat vision.

The interior of the Optima Hybrid is upholstered with custom materials chosen for their unique appearance and texture to reflect Superman's impenetrable battle armor. And Superman's iconic "S" shield is integrated into the seats and steering wheel to give it the right heroic touch.

"This joint effort to raise awareness for the 'We Can Be Heroes' giving campaign through Justice League-inspired cars has proven to be a huge hit with both comic fans and car aficionados," stated Amit Desai, senior vice president of franchise management, DC Entertainment. "We're excited to continue our partnership with Kia to bring the latest addition, the Superman-inspired Optima Hybrid, to fans in Chicago and beyond."

As Kia's sales have grown, so has the company's role as a responsible corporate citizen, and the Superman-themed Optima furthers those efforts with two video screens in the front-seat headrests that will raise awareness about the worst hunger crisis in 60 years by featuring a custom "We Can Be Heroes" video that demonstrates how one small act can make anyone a hero.

About the Optima Hybrid
The Kia Optima Hybrid stands apart from the crowd with its impressive power, eye-catching style, modern amenities and long list of standard safety features. Kia's first hybrid in the U.S. offers drivers cutting edge-technologies, including an eight-speaker Infinity® audio system, HD Radio™ and Kia's UVO powered by Microsoft® voice-activated infotainment and communications system.

About DC Entertainment
DC Entertainment, home to iconic brands DC Comics (Superman, Batman, Green Lantern, Wonder Woman, The Flash), Vertigo (Sandman, Fables) and MAD, is the creative division charged with strategically integrating its content across Warner Bros. Entertainment and Time Warner. DC Entertainment works in concert with many key Warner Bros. divisions to unleash its stories and characters across all media, including but not limited to film, television, consumer products, home entertainment and interactive games. Publishing thousands of comic books, graphic novels and magazines each year, DC Entertainment is the largest English-language publisher of comics in the world. In January 2012, DC Entertainment, in collaboration with Warner Bros. and Time Warner divisions, launched We Can Be Heroes-a giving campaign featuring the iconic Justice League super heroes-to raise awareness and funds to fight the hunger crisis in the Horn of Africa.

Kia: One of the World's Fastest Moving Global Automotive Brands
Kia Motors America is one of only three auto brands to increase U.S. sales in each of the past four years, and in 2012 the company surpassed the 500,000 unit mark for the first time. With a full line of fun-to-drive cars and CUVs, Kia is advancing value to new levels of sophistication by combining European-influenced styling – under the guidance of chief design officer Peter Schreyer – with cutting-edge technologies, premium amenities, affordable pricing and the lowest cost of ownership in the industry. Kia recently joined the exclusive ranks of Interbrand's "Top 100 Best Global Brands," and is poised to continue its record-breaking momentum with seven all-new or significantly redesigned vehicles scheduled to arrive in showrooms in 2013. Over the past decade Kia Motors has invested more than $1.4 billion in the U.S., including the company's first U.S. assembly plant in West Point, Georgia – Kia Motors Manufacturing Georgia (KMMG) – which is responsible for the creation of more than 11,000 plant and supplier jobs. The success of the U.S.-built* Optima and Sorento in two of the industry's largest segments has fueled Kia's growth and is complemented by Kia's comprehensive lineup which includes the Sportage compact CUV, Soul urban passenger vehicle, Optima Hybrid, Forte compact sedan, 5-door compact hatchback and Forte Koup two-door coupe, Rio and Rio 5-door sub-compacts and Sedona minivan.

About Kia Motors America
Kia Motors America is the marketing and distribution arm of Kia Motors Corporation based in Seoul, South Korea. KMA offers a complete line of vehicles through more than 765 dealers throughout the United States and serves as the "Official Automotive Partner" of the NBA and LPGA. In 2012, KMA recorded its best-ever annual sales total and gained U.S. market share for the 18th consecutive year. Kia is poised to continue its momentum and will continue to build the brand through design innovation, quality, value, advanced safety features and new technologies.

Information about Kia Motors America and its full vehicle line-up is available at its website – www.kia.com. For media information, including photography, visit www.kiamedia.com.
---
By Michael Harley
---
See also: Kia Cross GT concept gives glimpse of future premium CUV, Kia debuts Forte 5-door with available 201-HP turbo engine, Superman-themed Kia Optima Hybrid definitely not faster than a speeding bullet.